PBA
:

Kramer powers Petron past Ginebra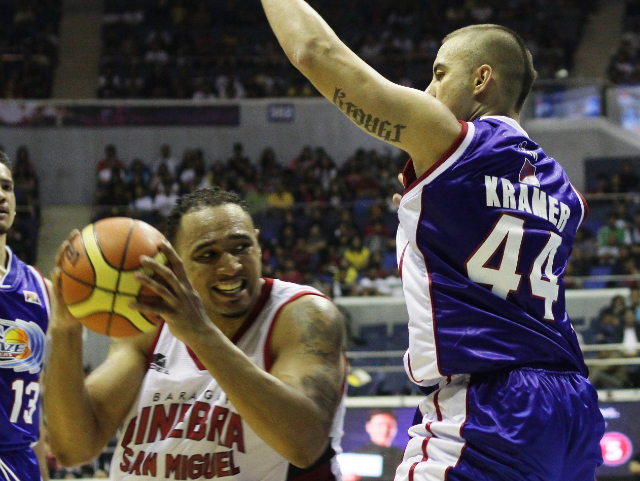 Petron's new acquisition Doug Kramer (R) provided solid defense against Ginebra import Dior Lowhorn.
Jeff Venancio
The Petron Blaze Boosters scored their first win of the 2013 PBA Governors' Cup with a 101-95 win over sister team Barangay Ginebra San Miguel, on Sunday at the Smart-Araneta Coliseum.
Petron evened their record at 1-1, while Ginebra, under new head coach Ato Agustin, who used to handle Petron, began their campaign with a 0-1 record.
Import Elijah Millsap scored 24 points for Petron, while Marcio Lassiter added 23 markers, but it new acquisition Doug Kramer who was named Best Player of the Game, as he scored 17 points while adding 10 rebounds. He was also the primary defender against Ginebra import Dior Lowhorn.
"Doug really played good defense against Lowhorn," said new Petron head coach Gee Abanilla. "Transition offense worked for us today. Marcio played well and also Elijah Millsap."
The game was tied at 93-all late in the fourth quarter, but Ginebra committed successive turnovers to allow Petron to break away in the final two minutes.
"There were some chemistry issues. June Mar and Doug came in late but we had another day to adjust. In the first game medyo nawala kami," admitted Abanilla, who used to coach the DLSU Green Archers of the UAAP. "We were too amused with June Mar getting the ball inside, which wasn't good for our offense."
The two San Miguel Corporation franchises traded fire in a high-scoring first quarter. Ginebra import Dior Lowhorn dominated with 15 points in the initial 12 minutes, while Mark Caguioa and Chris Ellis added a combined 12 points. Petron, on the other hand, was led by Elijah Milsap with 10 points. New recruit Doug Kramer added six points while Marcio Lassiter chipped in four.
The two teams shot an identical 12/22 from the field. They also both got 10 rebounds in the game's first 12 minutes, as Ginebra lead 29-26.
Baskets from Lassiter and Millsap got Ginebra's lead down to four points at 38-34 in the second quarter, but two free throws from Japeth Aguilar brought it back up to six halfway into the period. Another Aguilar basket at the 4:30 mark then re-established an eight-point lead for Ginebra at 44-36.
A free throw from LA Tenorio at the 1:27 mark of the second gave Ginebra a 50-40 lead, but a late Petron run made it just a 52-45 advantage at the half.
Lowhorn led all scorers at the break with 18 points but he slowed down considerably with Kramer bodying him up.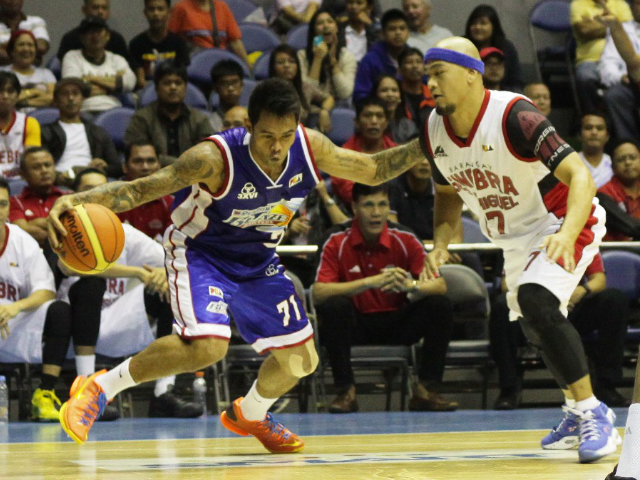 Petron's Ronald Tubid (L) tries to evade the defense of Ginebra's Mark Caguioa. Jeff Venancio

Ellis started the second half with an and-one play for Ginebra for a 55-45 count in their favor. However, Millsap and Santos replied with five straight points to cut the lead in half.

Caguioa halted the Petron run with a fast break layup at the 8:16 mark of the third for a 59-52 count. Later on, a Kramer hook shot at the 6:20 mark inched Petron closer at 63-58. Two free throws from Kramer on the next possession further trimmed the lead to three.

Willie Wilson then scored for Ginebra, but Alex Cabagnot replied with a triple at the 4:18 mark of the third to inch the Boosters closer, 65-63.
An and-one play from Kramer finally gave Petron the lead, but Ellis regained the edge for Ginebra with a tip-in.

After Lassiter scored five straight points for Petron, Milsap added two free throws with 1:32 left in the third to give his team a 76-69 advantage. Cabagnot added a triple on the next possession to build a 10-point lead for the Boosters, though Ginebra watered it down slightly to 79-71 lead after three.

Helterbrand opened the fourth with five straight points to wake up the Ginebra crowd and get the Barangay to within three at 79-76. A Santos layup over Aguilar stopped the bleeding for Petron, but Aguilar returned the favor at the other end. After a long silence, Lowhorn made his presence felt at the 9:51 mark of the fourth. His basket got Ginebra to within a point at 81-80.

Gimebra had multiple chances to take the lead, but their shots refused to fall. Lassiter made them pay with a triple at the 7:57 mark followed by a Canagnot free throw, to give Petron some breathing room at 85-80.

Down but not quite out, Ginebra then went on a 7-0 run capped by an and-one play from Lowhorn at the 5:23 mark to give the Kings an 87-85 lead. However, Canagnot scored on a four-point play to retake the lead for Petron at 89-87. Tenorio then made up for his foul on Cabagnot by scoring on a reverse layup that knotted the score at 89-all.

With the score tied at 91-all, Lassiter converted on a put-back to give Petron the lead. Tenorio quickly tied the ball game anew with two free throws at the 2:22 mark of the fourth.

Millsap was fouled on the next play, but he only managed a split from the line. Petron then completed a stop, which led to a Santos basket. Another Petron stop, this time due to an offensive foul on Wilson, led to a basket by Kramer that gave Petron a 98-93 advantage with only 1:31 left in the game.

Ginebra unraveled late as another turnover resulted in an and-one play for Lassiter, to put the game away for the Boosters.

Barangay Ginebra got 29 points on an efficient 11-of-16 clip from import Dior Lowhorn, while Mark Caguioa and Chris Ellis scored 15 and 12 markers, respectively.

Gilas Pilipinas point guard LA Tenorio managed nine points and 10 dimes, while national team teammate Japeth Aguilar, acquired during the offseason from GlobalPort, came off the bench for eight points, five rebounds and a block.

"It should be something special because this is my first time to be the head coach of the PBA team," said Abanilla. "But as they say, a win is just a win. We still have a lot of work to do."

Petron actually lost the rebounding battle against Ginebra as they only got 38 rebounds compared to the Kings' 46. The Boosters, however, committed six less turnovers. Ginebra had 23 turnovers in the game which translated to 22 points for Petron, some of which became the difference late in the game. - RAF, GMA News


The scores:

Petron 101 - Millsap 24, Lassiter 23, Cabagnot 18, Kramer 17, Santos 12, Tubid 5, Fajardo 2, Deutchman 0, Lutz 0, Lanete 0

Ginebra 95 - Lowhorn 29, Caguioa 15, Ellis 12, Tenorio 9, Aguilar 8, Wilson 7, Mamaril 6, Helterbrand 5, Baracael 4, Urbiztondo 0

Quarter scoring: 26-29, 45-52, 79-71, 101-95