PAGASA: Tropical Storm Maring intensifies, nearly stationary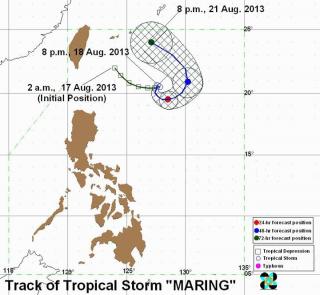 'Erratic' Maring lingers northeast of Batanes. Tropical Storm Maring seemed to make a U-turn over the Pacific Ocean section northeast of the Philippines and east of Taiwan. PAGASA
Tropical Storm Maring (international name Trami) intensified Monday night and remained almost stationary off extreme northern Luzon, state weather forecasters said.
PAGASA, in its 11 p.m. advisory, said
Tropical Storm Maring
was estimated to be 600 km east of Itbayat, Batanes as of 10 p.m.
Maring was moving northwards at only 7 kph. By Tuesday evening, it is expected to be 560 km east-northeast of Itbayat, Batanes. By Wednesday evening it is expected to be 470 km northeast of Itbayat, Batanes.
On Thursday evening, it is forecast to be 595 km north of Itbayat, Batanes or outside the Philippine area of responsibility.
Maring packed maximum winds of 85 kph near the center, with gustiness of up to 100 kph.
No public storm signals have been raised.
Heavy to intense rainfall
Maring may bring rainfall of 10 to 25 mm per hour (heavy to intense) within its 400-km diameter.
It will also continue to enhance the southwest monsoon, which will bring moderate to heavy rainshowers and thunderstorms over Luzon, particularly over the western section.
The enhanced monsoon has been bringing rain over Metro Manila and nearby provinces since Sunday.
Meanwhile, PAGASA advised fishermen, "especially those using small seacraft," not to venture out over the seaboards of Luzon due to heavy seas, also caused by the enhanced southwest monsoon.
— DVM, GMA News