Pampanga bridge along modern SCTEx collapses amid heavy rain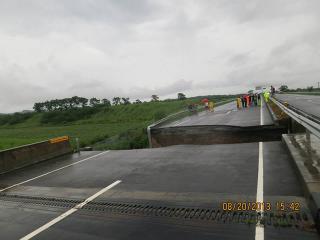 SCTEX highway in Central Luzon gives way. NLEX Traffic tweeted: Pasig-Potrero Bridge along SCTEX going to and from Olongapo cracked and is not passable to all types of vehicles. Dexter Albert David
(Updated 9:19 p.m.)
The Subic Clark Tarlac Expressway, or SCTEx, is arguably the most impressive highway in the Philippines and among the newest.
Yet a large portion of a key bridge along the thoroughfare collapsed like a wafer Tuesday afternoon amid strong habagat rain.
The
Pasig-Potrero Bridge
bridge, located in Porac, Pampanga, was rendered impassable when part of it gave way.
Bataan provincial engineer Enrico Yuzon received the news at 4 p.m. that the bridge broke, supposedly due to heavy rains and strong water current from the water body below the structure, according to a report on GMA News Tv's "Quick Response Team" said.
The repair will take about one month to finish, it added.
The bridge is traversed by vehicles that go from Manila to Olongapo, radio dzBB's Tuesday Niu reported. Motorists must now seek alternate routes.
Porac Mayor Condralito dela Cruz said in an interview on GMA News' "24 Oras" that the collapse caused part of the bridge to be closed to traffic, forcing bus firms with routes in Central Luzon to take alternate routes.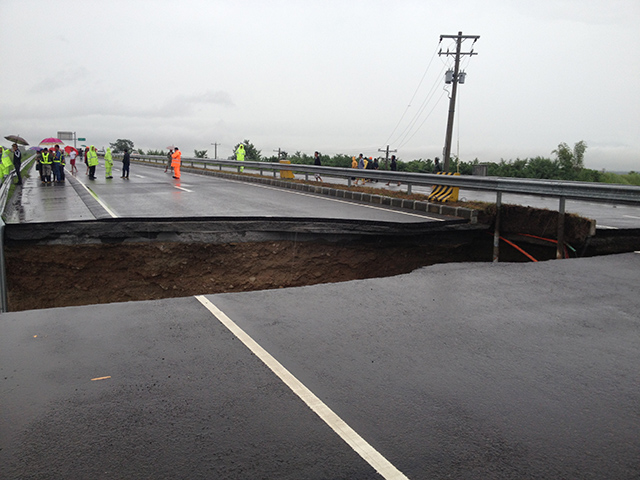 A portion of the Pasig-Potrero Bridge on SCTEX en route to Olongapo collapsed on Tuesday, rendering the road impassable to all types of vehicles. Photo by Dexter Albert David
Dela Cruz lamented that the bridge lacked structural support.
Official statement
The Bases Conversion and Development Authority (BCDA) issued a statement on the bridge collapse, saying in part: "Record rainfall for the past few days has resulted in strong currents along the Pasig Potrero River, causing the saturation and erosion of the properties adjacent to Subic-Clark-Tarlac Expressway (SCTEx) and redirection of the current to the approach of the Pasig Potrero Bridge, thus leading to the erosion of the embankment.
"A section of SCTEx from Clark South going to Porac has been closed as a result to ensure the safety of motorists. Rerouting of traffic flow to and from the Subic area and surrounding towns is currently being implemented, while technical assessment on the damage is ongoing.
"However, the SCTEx Clark-Tarlac section remains open to all vehicular traffic."
The SCTEx was built by the BCDA, and is currently being managed and operated by the Manila North Tollways Corp. (MNTC).
Alternate routes
Victory Liner advised its passengers to go to Robinson's in San Fernando, Pampanga instead of waiting for a ride to Olongapo, Zambales from Dau.
"In view of the damaged Porac Bridge, instead of waiting for a ride to Olongapo/Zambales from Dau, pls go to Robinsons San Fernando, Pampanga,"
it said
.
The bus firm
added
that its buses no longer pass Dau due to the damage.
SCTex was opened in 2008 as a way to connect Clark and Subic, and promised a new boom era for Central Luzon. It has an exit leading to the Hacienda Luisita Industrial Park, developed by President Aquino's family.
The SCTex is also the longest expressway in the Philippines, at nearly 94 kilometers. —
with a report by Rouchelle R. Dinglasan/KBK/HS/BM, GMA News