Makati court orders Napoles's transfer to city jail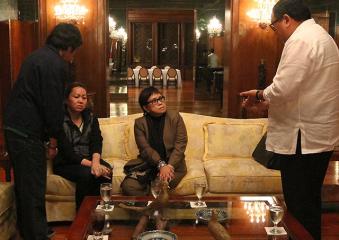 Janet Napoles surrenders to PNoy. Secretary to the Cabinet Jose Rene Almendras (right) talks with businesswoman Janet Lim-Napoles (2nd left) and her lawyer Lorna Kapunan in Malacañang on Wednesday night, August 28. Napoles, accompanied by her husband Jaime Napoles (left), surrendered to President Aquino hours after the President offered a P10M reward to anyone who can give information for the arrest of the alleged brains behind the P10B pork barrel scam. Rodolfo Manabat
(Updated 3:47 p.m.)
The Makati court handling Janet Lim Napoles's serious illegal detention case on Thursday ordered her transfer from Camp Crame in Quezon City to the Makati City Jail.
Lawyer Jodfa Valencia, Makati Regional Trial Court Branch 150 clerk of court, told GMA News Online that Makati Judge Elmo Alameda has issued a commitment order to move Napoles from the Philippine National Police headquarters to a city jail.
She said as of posting time, their sheriff was still serving the commitment order in Camp Crame. She said the commitment order did not specify when Napoles would be transferred.
"Depende sa Camp Crame kung kailangan nila puwede ma-transfer," Valencia said.
Meanwhile, the PNP-Criminal Investigation and Detection Group said it cannot give the exact time or day of Napoles's transfer.
Senior Superintendnet Robert Fajardo, CIDG chief in the National Capital Regoion, said they still have to make security preparations for the transfer.
"We cannot take the risk na basta na lang (ilipat). We have to make preparations para sa security," he told reporters.
Asked if the transfer would happen within the day, Fajardo said, "We will do our best, kung ano ang gusto ng court we will try to comply."
Arraignment
Napoles's arraignment was set for September 9 at 1:30 p.m., according to Alameda's order.
Valencia said Napoles and her lawyers may request the judge to let her stay in Camp Crame.
"Dapat mag-file sila ng written motion and request na i-retain ang custody ng accused basta may grounds. Then ii-evaluate pa ng court kung possible," she said.
Napoles on Wednesday night surrendered to President Benigno Aquino III in Malacañang, hours after the President offered a P10-million reward for any information that would lead to her arrest.
Napoles's lawyer Lorna Kapunan said her client surrendered because of threat to her life, and that she surrendered to Aquino because she trusted the President more than the National Bureau of Investigation (NBI), which was spearheading the manhunt operations against her.
For his part, NBI director Nonnatus Caesar Rojas told GMA News Online that the NBI sees no problem in having Napoles transferred to the Makati City Jail.
"Wherever the Court decides it best where to detain Janet Napoles will be respected by the NBI," Rojas said. "We will always humbly comply with Orders of the courts."
On top of the serious illegal detention case, Napoles is also being accused of being the brains behind the diversion of P10 billion from several lawmakers's pork barrel funds to non-existent foundations in the span of 10 years.
— with Amita O. Legaspi/LBG/KBK, GMA News