Novel longganisa dishes at the Longganisa de Guinobatan Festival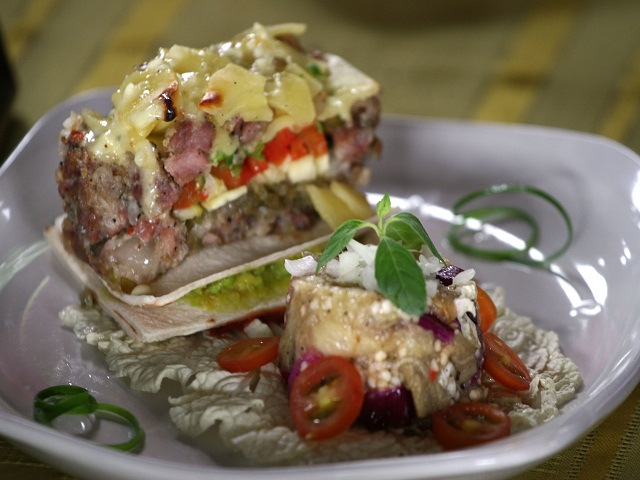 Longganisa de Guinobatan Surprise.
Long a staple of Filipino breakfasts everywhere, the native sausage, or longganisa, comes in so many local variations that it seems as if nothing new can be done with it.
But imagine chopped longganisa in a pasta mixed with mushrooms and tomato sauce, or perhaps as lumpia and empanada filling. It may sound strange to you, but Guinobatan, Albay plans to uphold a yearly contest showcasing the region's variety of longganisa via pairing it with other dishes that don't usually feature it.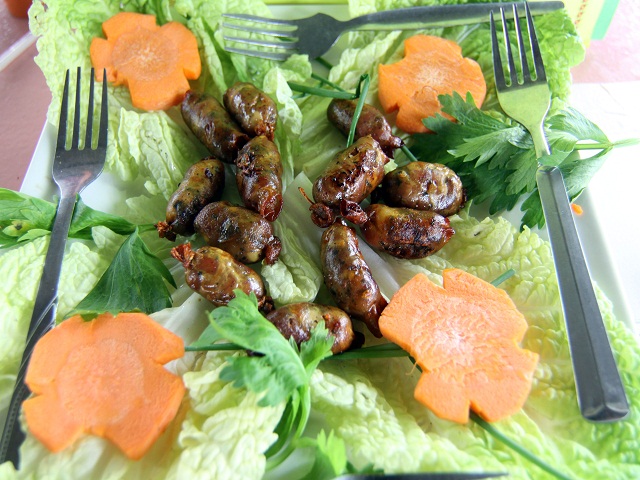 Longganisa de Guinobatan Vegetable Salad.
The First Guinobatan Longganisa Making and Cooking contest was a highlight of this year's two-week long Fiesta celebration of Our Lady of the Assumption in Guinobatan town in Albay last Aug. 12. Contestants showed off their innovativeness and creativity in preparing the longganisa and demonstrating its versatility as a main dish and part of any dish.
Bicol University Professor Liordita Ilanto, event coordinator of Longaniza de Guinobatan Culinaria said that Guinobatan's longganisa is distinctly different from other regions' varieties because of its unique taste and appearance, as well as its preparation process.
"Kung matitikman mo, ito ay kakaiba," she boasted.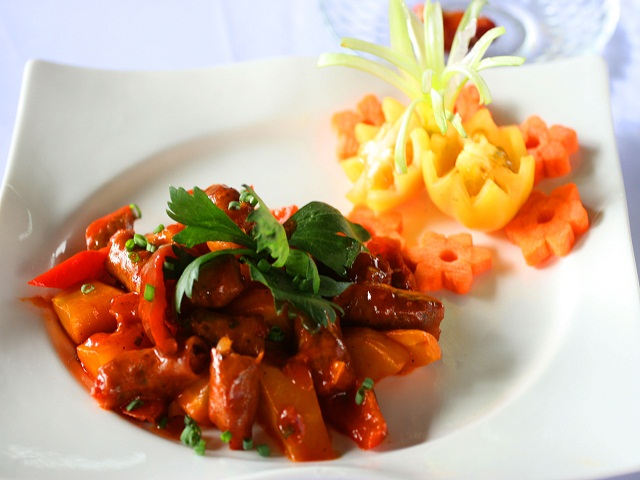 Longganisa de Menudo.
Professor Ilanto states that the longganisa in Guinobatan is different from popular varieties in that it is made from chopped meat instead of ground meat. Producers chopped the meat into small pieces and used pork's small intestines as its wrapper, making the preparation very intensive and laborious work.
She added that they just hang the longganisa from the ceiling at room temperature and no longer refrigerate it.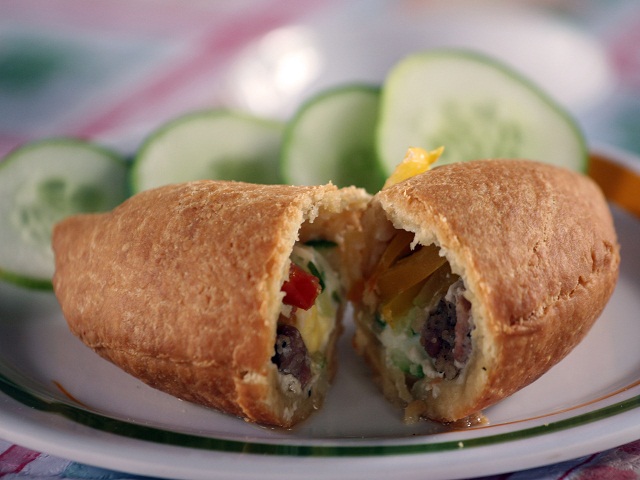 Longganisa de Guinobatan Stuffed Pocket Pie.
Mayor Ann Gemma y Ongjoco expressed her support for local producers and encouraged them to further develop the product and produce more variants of the longganisa.
"With improved packaging and proper accreditation of the products, the longganisa of Guinobatan will be marketable. Airports and hotels in Bicol are good place to promote the Guinobatan longganisa. With this, more producers will be encouraged to roll up their sleeves and venture in this business," Mayor Ongjoco said. —
VC/TJD, GMA News