Work in Zamboanga City courts suspended anew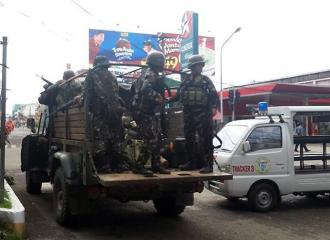 Troops set up blockades in Zambo City. Troops block city streets as they inch closer to MNLF-held Zamboanga City hospital on Monday, September 9. Earlier, a soldier was killed, while at least six others were wounded, during a clash between the armed forces and suspected MNLF gunmen before dawn in the city. Lt. Col. Ramon Zagala, head of the AFP-PIO, said the encounter occurred off the coast of Rio Hondo, a known hotspot in the city. Citing initial reports, Zagala said the encounter involved suspected MNLF fighters and the Naval Special Operations Group. Jocelyn P. Alvarez/PIA9
Work in all courts in Zamboanga City has been suspended anew on Tuesday, as the standoff between government security forces and Moro National Liberation Front gunmen entered its second day.

"Work today at the Zamboanga Hall of Justice is suspended until the situation stabilizes," the Supreme Court Public Information Office said on its official Twitter account.
The crisis, which started early Monday morning, has left four people dead and 14 others injured. Military authorities said 168 residents are being held hostage in at least barangays.

Earlier Tuesday, Zamboanga police clarified that the estimated 300 civilian hostages as of Monday evening were actually "stranded" residents of communities who could not flee because of fear of getting caught in the crossfire.

This is the second day that work at the hall of justice had to be suspended due to the crisis.
"Based on an initial assessment made this morning by the Acting Executive Judge of the Regional Trial Court of Zamboanga after consultation with Deputy Court Administrator Raul B. Villanueva of the Office of the Court Administrator, court personnel were not asked to report for work today," the SC said on Monday.
The SC added that work suspension would be "day to day, depending on the Acting EJ's assessment of the situation." — Mark Merueñas/RSJ, GMA News