Zamboanga City stand-off 'catastrophic' financially as well – business group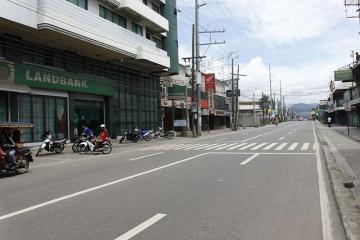 Zambo streets deserted as MNLF siege continues on 2nd day. Several barangays in Zamboanga City have become virtual ghost towns on Tuesday, September 10, as government troops continue to choke MNLF positions on the second day of the siege that left four people dead and at least a dozen wounded. Philippine Information Agency Region IX
Businesses in Zamboanga City remained shuttered for the second straight day amid the continued exchange of gunfire between government troops and the Moro National Liberation Front (MNLF) near the city hall.
"A lot of things have been put on hold. There are no transactions since yesterday," Zamboanga City Chamber of Commerce and Industry Foundation, Inc. president Pedro Rufo Soliven told GMA News Online in a phone interview Tuesday.
Soliven described commerce in the bustling city as being at a standstill, with the city's 16 canning plants – mostly sardine factories – shut down.
Zamboanga City, arguably the gateway to Southern Mindanao, is touted as the Zamboanga Peninsula's center for trade and commerce. It is also home to the Zamboanga City Special Economic Zone Authority, one of the three current Economic Freeport Zones outside Luzon. According to the freeport's website, Zamboanga City's economic zone houses big businesses including Globe Telecom Inc. and motorcycle manufacturer DEMAK.
Few shops open
Only a few supermarkets opened shop for a couple of hours Tuesday to service basic necessities.
"There was clamor for basic goods, so some supermarkets near the outskirts or away from the center where the action is opted to open for a couple of hours. But they also locked doors after," said Soliven.
In an announcement posted on her Facebook Tuesday morning, Zamboanga City Mayor Beng Climaco told "groceries, pharmacies and gasoline stations located in barangays away from the so-called 'areas of concern' to open starting this afternoon."
Climaco has urged people to stay in their homes, and
imposed an 8 p.m. to 5 a.m. curfew.
"It's hard to put a ballpark figure as of now on how much industries are losing. But if we base it on central bank figures on the circulation of money, an average of P50 billion a day," Soliven said.
Banking transactions on hold
Noting that the decision to close shop still depends on the discretion of banking executives in the area, central bank Deputy Governor Diwa Guinigundo told reporters, "We understand banks are closed in Zamboanga City."
An example is PS Bank, a subsidiary of listed Metropolitan Bank & Trust Co., which said it temporarily closed its three branches in Zamboanga City Tuesday to ensure the safety of its clients and employees.
Soliven notes that banks keeping operations at a standstill put pressure on financial transactions in the region. "Zamboanga serves as the depository area of neighboring islands," he said.
A dent in travel receipts
In the two days of flight cancellations to Zamboanga City, Cebu Air Inc. already recorded some 3,000 affected passengers of its low-cost carrier Cebu Pacific, the airline's vice president of Marketing and Distribution Candice Iyog said in a text message.
Iyog noted that Cebu Air is assessing forgone revenues amid efforts to help clients with "their rebooking and refunding among other options, and looking into the possibility of arranging extra flights to accomodate guests."
Federation of Tourism in the Philippines (FTIP) president Aileen Clemente, meanwhile, said the conflict has a minimal effect in the tourism industry for now.
"I believe the flight cancellation do affect business travellers more and local commuters," she said in a separate text message.
Officials of flag carrier Philippine Airlines have yet to respond to GMA News Online as of posting time.
While the dent in tourism may not be high, Clemente notes that "the longer the conflict continues, the more time it will take for it to realizing its potential as a tourist destinations."
"But the longer the conflict continues, the more time it will take for it to realizing its potential as a tourist destinations," she said.
Escalating effects
Philippine Chamber of Commerce and Industry chairman Sergio Ortiz-Luis Jr. said by phone, "Unless it can be resolved quickly, I would assume that the damage will be quite a lot."
The view was shared by central bank's Guinigundo. "There will be no impact if this is short-lived," he said, but noted that it will be a different story once the conflict lingers.
FTIP's Clemente said, "At the end of the day, these types of situations are disruptive to the efforts of economic stability."
But more than the economic effects, Soliven said residents will have to deal with lingering jitters over safety that once blanketed the regional center.
"This is catastrophic for Zamboanga not only financially. This is traumatic," he said.
Casualties so far included four killed and 14 injured. "Authorities are undertaking steps to resolve the crisis but would not divulge details of the operation,"
the Zamboanga City government said in its Twitter account
.
— BM, GMA News