CBCP: Zamboanga priest among MNLF 'hostages'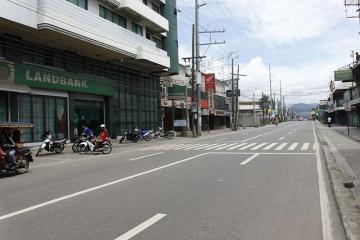 Zambo streets deserted as MNLF siege continues on 2nd day. Several barangays in Zamboanga City have become virtual ghost towns on Tuesday, September 10, as government troops continue to choke MNLF positions on the second day of the siege that left four people dead and at least a dozen wounded. Philippine Information Agency Region IX
A Catholic priest is among the "hostages" of the Moro National Liberation Front who are engaged in a standoff with government forces in Zamboanga City, the Catholic Bishops' Conference of the Philippines said Tuesday.
The CBCP said Chief Inspector Ariel Huesca, spokesman of the Philippine National Police Regional Office 9, identified the priest as Fr. Michael Ufana of St. Joseph Parish.
"Ufana was reportedly with his parents who were celebrating their wedding anniversary yesterday when the rebels took them in Barangay Sta. Catalina," the
CBCP said
on its news site, citing information from Huesca.
A separate report on dzBB radio Tuesday night said the MNLF is also holding his parents and sister hostage.
The CBCP quoted Zamboanga Archdiocese administrator Msgr. Crisologo Manongas as saying Ufana was trapped in the standoff.
"All the time they were there until eventually their house was forced open by the MNLF and the rebels used it as a place where they put their guns," Manongas said.
Manongas said they have been praying for the safety of the hostages and an end to the violence.
"We are praying. That is all we can do for now because we have to leave the rest to the authorities. We are also helping in distribution of food to those stranded in the evacuation centers," he said. — ELR, GMA News