Zamboanga City trade may be dented if conflict persists – economist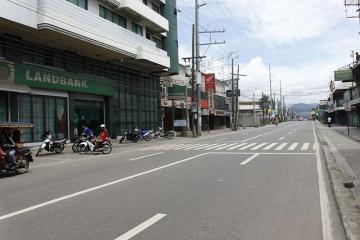 Zambo streets deserted as MNLF siege continues on 2nd day. Several barangays in Zamboanga City have become virtual ghost towns on Tuesday, September 10, as government troops continue to choke MNLF positions on the second day of the siege that left four people dead and at least a dozen wounded. Philippine Information Agency Region IX
Zamboanga City may soon see a dent in its trade if the ongoing violence brought by gunmen of the Moro National Liberation Front to the budding metropolis continues, an economist said Wednesday.
"For the macroeconomy, it's insignificant as fundamentals remain intact. But this is a very local event and will definitely curb the Zamboanga economy if the conflict persists," said University of Asia and the Pacific senior economist Victor Abola.
He added that the crisis will make the most impact on trade, which the region has "a lot" of, with goods moving to and from Zamboanga Peninsula, the Autonomous Region in Muslim Mindanao and North Borneo.
Zamboanga City, arguably the gateway to Southern Mindanao, is touted as the Zamboanga Peninsula's center for trade and commerce.
It is also home to the Zamboanga City Special Economic Zone Authority, one of the three current Economic Freeport Zones outside Luzon. According to the freeport's website, Zamboanga City's economic zone houses big businesses including Globe Telecom Inc. and motorcycle manufacturer DEMAK.
Possible loss of billions
On Tuesday, Zamboanga City Chamber of Commerce and Industry Foundation, Inc. president Pedro Rufo Soliven said businesses have been shuttered amid the violence and
described the environment as "catastrophic" to finances.
With most businesses closing shop, Soliven said, around "P50 billion of money in circulation a day" is at risk.
"That amount is possible given that a lot of banking deposits go through the city," said Abola.
He added that the conflict has "impaired the livelihood" of Zamboangueños, with the city's 16 canning factories – mostly for sardines – unoperational since Monday. Reports peg the losses at P2 million a day per factory.
The National Statistical Coordination Board does not publish gross domestic product per city, but the state agency's data show that Zamboanga Peninsula's economy soared by 12.4 percent in 2012 from 0.1 percent in 2011. This was the fastest growth in 2012 among the Philippine's 17 regions.
The region produced some P299.688 billion in products and services in 2012.
— BM, GMA News