Misuari disowns actions of MNLF men in Zambo standoff – mayor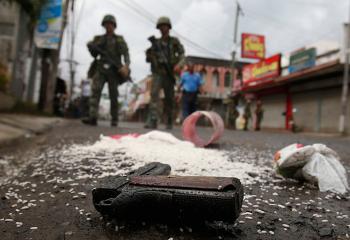 Govt forces intensify checkpoints in Zamboanga. A .45 caliber pistol concealed in a bag of rice carried by a suspected Moro National Liberation Front (MNLF) gunman lies on a road after he was captured at a military checkpoint in downtown Zamboanga City on Wednesday, September 11. An undertermined number of MNLF fighters seeking to declare an independent state waged a standoff with government security forces since Monday, September 9. Reuters/Erik De Castro
(Updated 12:36 p.m.)
Moro National Liberation Front (MNLF) founding chairman Nur Misuari has disowned the actions of his men who have been engaging government forces in a standoff in Zamboanga City, Mayor Beng Climaco said Thursday.
A post by the Zamboanga City local government on its Twitter account quoted Climaco as saying that she was able to talk with Misuari on Wednesday night.
Mayor Climaco: Last night I was able to talk to Chairman Nur Misuari hoping that it would pave the way for the peaceful end of this crisis

— zambocitygovt (@zambocitygovt) September 12, 2013
Climaco said Misuari was particularly disowning the actions of Habier Malik, the leader of the MNLF fighters who have been holding hostage several civilians in several Zamboanga City villages.
Mayor Climaco: Misuari disowned the actions of Habier Malik, the leader of the hostage-takers with whom I communicated separately.

— zambocitygovt (@zambocitygovt) September 12, 2013
"I expressed my openness to continue communication with Misuari as well (as) Malik to find peaceful resolution of this conflict," she added.
Climaco made the statement during a press conference at the Zamboanga City Hall, which was ongoing as of posting time.
Coordination ongoing
She said she is in coordination with
ulamas
(Muslim legal scholars) and religious sectors who are helping the local government address the standoff, which reached its fourth day on Thursday.
Climaco reiterated her appeal to the MNLF fighters to release their hostages especially the elderly, the sick, the children and people with disabilities. She also assured the affected residents that they have more than enough food and security.
Six of the 98 barangays of the city have been infiltrated by the MNLF forces, Climaco said, adding that the imposition of curfew was smooth Wednesday night with no significant violations.
Climaco further said that she has talked with Father Michael Ufana,
who was among the hostages
. She said the Catholic priest had told her that he is well.
Ufana was reportedly with his parents who were celebrating their wedding anniversary Wednesday when the rebels took them in Barangay Sta. Catalina.
Appeals
Meanwhile, Climaco
made appeals to key sectors of the community
, particularly to the businesses in unaffected areas to "continue to sell supplies."
"Those in the commercial areas, if you decide not to open your stores, please open alternative stores in safer areas and help keep our city running," she added.
To the financial community, Climaco said she had written Bangko Sentral ng Pilipinas executives "requesting that they find creative ways to open in unaffected areas and secure approval from your senior management offices so that our people can transact business, as our people need additional supply of funds."
She issued a similar call to pawnshop operators and remittance centers. She also requested doctors to "remain in hospitals because you are needed to serve patients who have medical needs in these very trying times."
She asked barangay leaders and neighborhood leaders like lawyers, accountants, businessmen to "organize yourselves as a barangay network group to secure your local from rumors spreading around."
"Your neighbors and your community are looking after your leadership," she said.
Meanwhile, she asked religious and spiritual leaders to "please pray for the safety and well being of the hostages and to help end this very, very sad situation."
— Amita O. Legaspi/KBK, GMA News