DND chief: Fighting still ongoing in Zambo City despite ceasefire claims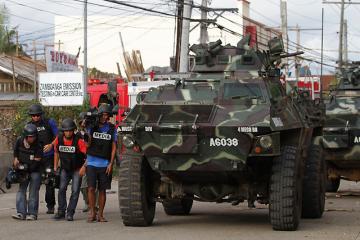 Journos face danger while covering Zambo conflict. Television journalists, including those from GMA News, covering the conflict in Zamboanga City on Thursday, September 12, take cover behind an advancing armored personnel carrier that shielded them from sniper fire. The standoff between government forces and MNLF gunmen continued on its fifth day. Richel Umel
Despite Vice President Jejomar Binay's claims of a ceasefire, explosions and sounds of gunfire were still heard early Saturday in Zamboanga City, the site of fighting between government and Moro National Liberation Front.
In a radio interview Saturday morning, Department of National Defense Secretary Voltaire Gazmin also said there would be no ceasefire if the MNLF would not be the first to stop firing.
"Right now nagpuputukan. So walang ceasefire. Ibig sabihin, hindi sinunod ang usapan na walang putukan," he said in an interview on dzBB radio.
He said Binay called him up Friday night and the VP said he can "reach out" to MNLF founding chairman Nur Misuari.
Binay asked if Gazmin would be amenable to a ceasefire.
"Sabi ko hangad ng lahat kapayapaan kung mapigil ang dugong umaagos. Sabi niya (Binay) 'kaya[ng] kausapin si Misuari.' Sabi ko, 'kami titigil only kung titigil sila'," Gazmin said.
"Ang napagkasunduan namin hindi magpapaputok ang gobyerno kung hindi magpapaputok ang MNLF (We said our forces will not fire shots if the MNLF stops firing)," he added.
Earlier, dzBB's Benjie Liwanag Jr. reported hearing explosions and the sound of gunfire.
On the other hand,
police operations against the MNLF continued before dawn Saturday
, the city government said.
In posts on its Twitter account, it said "Police Operations Division says no order of a ceasefire. For your information and guidance." The tweet was poted at 2:12 a.m.
It added police reported operations were being held within Lustre and Sta. Barbara.
"No casualties, released hostages," it said, but did not elaborate.
— LBG, GMA News