Palace: No plan to use US 'rotational presence' vs MNLF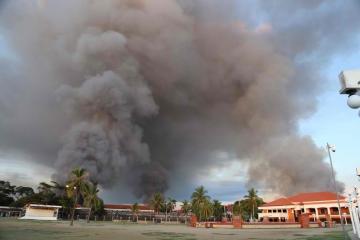 Simultaneous fires in 3 Zambo barangays on Friday. As gun battles raged in Zamboanga City throughout Friday, fires raged out of control in three barangays, from left: Santa Catalina, Santa Barbara, and Rio Hondo. Firefighters were prevented from doing their jobs by the conflict. Chino Gaston
Malacañang on Sunday shrugged off speculations of plans to use an agreement on the increased rotational presence of US forces in the Philippines to help end the crisis in Zamboanga City.
Deputy presidential spokesperson Abigail Valte said there is "no connection" between talks on increased rotational presence of US troops and the clash with the Moro National Liberation Front.
"Wala namang connection ito sa nangyayari ngayon sa Zamboanga. Malayo 'yan, hiwalay na usapin 'yan doon sa pinag-uusapan sa framework at hiwalay ang usapin sa insidente sa Zamboanga City," she said on government-run dzRB radio.
She was answering a question involving the possibility of implementing an agreement on the increased rotational presence of US troops in the Philippines to address the Zamboanga crisis.
"Huwag natin ipilit idikit ang magkakahiwalay na usaping 'yan," she added.
The crisis entered its seventh day Sunday, with the MNLF still holding on to civilian hostages.
A report on government-run PTV-4 cited a
Philippine Information Agency report
that at least 43 MNLF members had been arrested and 21 were killed as of Sunday morning.
Valte also reassured Indonesia that the government is doing everything to finish the crisis soonest.
She said the government has adopted a calculated stance in addressing the complications stemming from the MNLF taking hostages.
Aquino still in Zamboanga City
Valte also said President Benigno Aquino is still in Zamboanga City. She declined to say how long he will stay there, for security reasons.
"We cannot reveal that particular piece of information due to security reasons," she said.
Also, Valte thanked residents of Zamboanga City who helped take care of the evacuees by cooking or bringing hot meals and giving the affected residents needed assistance and support.
She said even owners of restaurants sent food and personnel to help in the cooking.
— LBG, GMA News