Muslim solons, including ex-MNLF member, appeal for peace in Zamboanga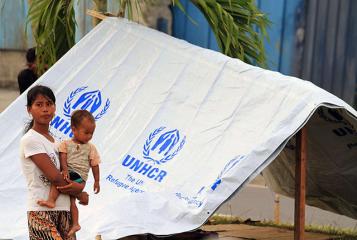 UNHCR provides hundreds of tents for Zambo evacuees . The United Nations humanitarian mission establish shelter tents on Sunday, September 15, for individually displaced Badjaos dwelling along the coastal boulevard of Zamboanga City.The displacement was a result of the continuing military offensive against MNLF gunmen who laid siege of six coastal villages since Monday, September 9. Richel Umel
Representatives from Mindanao, including one former member of the Moro National Liberation Front (MNLF), on Monday called on both the government and the MNLF to stop the hostilities in Zamboanga for the sake of the people there.
"As Muslim leaders whose constituents are now caught in the crossfire and victims of this condemnable war, we wish to beg and appeal in the strongest terms to our government and the Moro National Liberation Front to listen to the cry of the people to end this war, not only for the sake of the innocent civilians but for the sake of humanity," said Sulu Rep. Tupay Loong, reading from a prepared statement.
Loong, who used to be a member of the MNLF, added, "There will be no victor in this war but only losers," noting that fighting for peace with armed weapons is not only illogical, but impossible.
"The issue that both are fighting for cannot be resolved through war but only through peaceful negotiations," he said.
Instead, Loong said the government should engage the MNLF in negotiations with as much patience as it can muster, a point seconded by Maguindanao Rep. Bai Sandra Sema.
"Even sa negotiations with the MILF [Moro Islamic Liberation Front], nagkaroon ng impasse, but the government tried to really step out of their way to accommodate them," Sema said
.
The standoff between the two forces has rendered Zamboanga City practically paralyzed since fighting started on September 9.
— BM, GMA News