Movie review: 'Transit' gives rare glimpse of Pinoys in Israel
With the recent announcement of "Transit" as
the Philippines' official bet in the Best Foreign Language Film category of the 86th Annual Academy Awards
, a look back at director Hannah Espia's critically acclaimed Cinemalaya entry (where it won ten awards, including Best Director and Best Film) would seem to be in order.
While there has been no shortage in the number of local films dedicated to the trials and tribulations of Filipino overseas foreign workers, it's a fair bet to say that you've never seen it handled in quite this fashion. Built around the premise that migrant workers' children born in Israel and under the age of five must be deported, this is a side to the OFW equation that we've rarely, if ever, seen.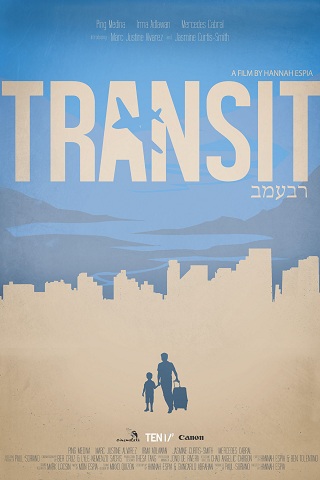 'Transit' is the Philippines' official entry to the Academy Awards' Best Foreign Language Film race.
"Transit" stars Ping Medina ("Jose Rizal", "Manila Kingpin: The Asiong Salonga Story") and Irma Adlawan ("It Takes a Man and a Woman", "Paghilom") as Moises and Janet, two sibling Filipino OFWs and single parents trying to make their way in Israel. Living with them are Janet's daughter, Yael (TV's Jasmine Curtis Smith) a headstrong teenager who has lived her entire life as an Israeli, and Moises' son, Joshua (Marc Justine Alvarez), a precocious four-year-old who wonders why he has to spend much of his time indoors, hiding from the police.
While this is ostensibly the story of Moises and Janet's efforts to keep their families together while instilling in their offspring the notions of what it means to be Filipino, those are things we've seen before. What makes "Transit" stand out amid all the usual talk of work visas and culture shock is Espia and producer Paul Soriano's ("Thelma") decision to devote a significant amount of screentime to the drama as seen from the points of view of the children.
Indeed, the central conflict here is not so much the plight of OFW's that has been cinematically mined to death by everyone from Nora Aunor and Aga Muhlach to Sharon Cuneta, but the notion of children being caught between two worlds, and it is here that "Transit" excels.
Adlawan and Medina are old pros at this sort of drama, and they handle their scenes as well as can be expected, but it is the children who make the most impression here. Surprising as it is to see Jasmine Curtis Smith butting heads with Idlawan in Hebrew, the real standout here is Alvarez, who steals the show with his portrayal of Moises' son, Joshua. Alvarez proves himself to be an actor to watch out for, bringing the right amount of innocence and perplexity at the crisis threatening to separate him from his father. Indeed, the child's desire to reconcile the only life he has ever known with the homeland he has only heard about is heartbreaking, coming to a head with a Torah recitation that is as affecting as it is tear jerking.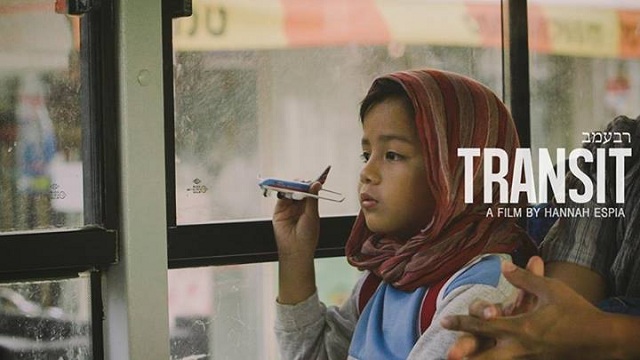 Marc Justine Alvarez steals the show as a child caught between two worlds.
Lending credibility to the film is its Israeli location, lovingly shot by cinematographers Ber Cruz ("Corazon: Ang Unang Aswang") and Lyle Sacris ("Yanggaw"). This, along with the narrative device of presenting the film from multiple points of view, adds resonance to the story, as well as allowing the viewer a chance to better understand motivations via the different depictions of the main characters' often overlapping narratives.

Being reviewed at this time, it is impossible to ignore the question of just how "Transit" compares to the other critically acclaimed films that were considered to represent the Philippine at the Oscars. Put simply, the storytelling isn't as in-your-face as Erik Matti's "On the Job" or as subtly sublime in its emotional machinations as Brillante Mendoza's "Thy Womb", and the fact of the matter is, it doesn't need to be. Multiple perspectives notwithstanding, Espia depicts her narrative as straight as possible, and therein lies the film's ultimate strength: In not trying to reinvent the wheel, she and her team have created a good old-fashioned drama that isn't ashamed to go for the heartstrings while simultaneously shining the spotlight on an issue many weren't even aware existed.

At the end of the day, it is just this sort of earnest storytelling that may succeed in bringing home that elusive Oscar gold. — BM, GMA News

Mikhail Lecaros is a professional magazine editor and freelance writer. The views expressed in this article are solely his own.