Dance review: 'Carmen': Lust for life – and a short ballet lesson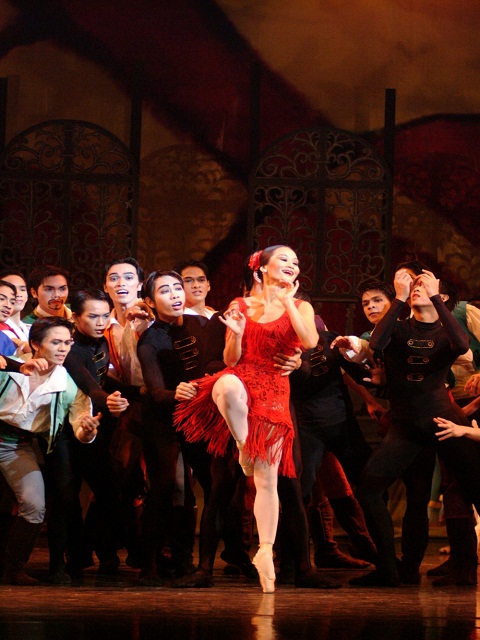 Lisa Macuja-Elizalde in 'Carmen'. Photo courtesy of Ballet Manila.
It was intriguing to see how a ballerina with a most wholesome image such as Lisa Macuja-Elizalde would essay the role of a fierce and forcefully sensuous woman such as Carmen, the titular heroine of the ballet based on Prosper Merimee's novella.
Ballet Manila's "Carmen", shown free to the public at the FEU Auditorium last Wednesday, was part of the prima ballerina's three-year Swan Song Series, which ends this year. Macuja-Elizalde will retire from dancing full-length ballets by the end of 2013.
Choreographed by Eric V. Cruz, Ballet Manila's first artistic director, Carmen is one of the more challenging roles in a company's repertoire, requiring exquisite, intense acting.
But first, Macuja-Elizalde provided a heartwarming start to the evening. She offered a brief, hands-on lecture to the audience about the basics of ballet technique as she demostrated, and then asked the audience to try for themselves, the basic turn-out and first position in ballet. This left many senior citizens in the audience laughing, while the younger ones eagerly tried to copy the ballerina.
After this engaging warm-up exercise, Macuja-Elizalde then proceeded to give a brief background of the ballet she was about to perform, describing Carmen as one of her "favorite roles," and that she would perform it for the last time this year.
"Carmen" is a one-act ballet with five scenes set in a Spanish summer, involving only four main characters: Carmen, a cigarera and gypsy, whose ambition and lust for life end in her tragic death; Don Jose, a corporal of the guards whom Carmen seduces to free herself from detainment after she had inflicted violence against her co-worker; Escamillo, a matador with whom Carmen falls in love; and Micaela, the lover of Don Jose. The double love triangle formed around these four characters was the highlight of the story.
Principal dancer Rudy De Dios as Don Jose was adept and agile in his portrayal, though his short height made the guards in the ballet tower above him. His passionate pas de deux with Macuja-Elizalde was convincingly fervid, and exquisitely ended with Carmen blowing off the candelabra's light before the couple was to spend their first tryst together.
Sofia Sangco-Peralta as Micaela especially stood out in her sentiment-filled solo variation as the lovelorn woman whom Don Jose had left for Carmen.
Senior soloist Francis Cascano as Escamillo, the matador, had the perfect build and height for his character; his virile and vigorous characterization made him the object of envy of Don Jose and the other men in Carmen's midst.
Having seen virtually the Carmen solos of celebrated dancers such as Alicia Alonso, Maya Plisetskaya and Alessandra Ferri, I could surmise that Cruz's choreography is still comparatively played down and conservative, though his choreography also had a quaint poignancy and a tempestuous character that is intrinsic to this Spanish-inspired ballet.
The sweetness in Macuja-Elizalde's pixie-like mien also toned down the otherwise aggressive nature in Carmen's character, and I realize how much effort is required to act out the character of a nasty and loose woman, which goes against the popular public image of Macuja-Elizalde as a goody-two-shoes "ballerina of the people." It was a sheer moment of allowing the body to be colonized by another character, the free-spirited gypsy girl Carmen—whom Macuja-Elizalde herself called a characteristic "bitch," during the open floor discussion which she held right after the 45-minute ballet.
The rose petals strewn on the floor was a poetic backdrop to the tragic ending which saw Carmen and Don Jose in a violent encounter that led to Carmen's death. Overall, the set design was minimalist and was only helped by red and dim lights to show the ballet's theme of passion and desire.
After the curtain call, it was gratifying that the people's ballerina closed the event with an open discussion, entertaining several questions from the audience about herself and her art.
Macuja-Elizalde's accessibility and warmth genuinely shone through as she stood before the audience right after the dance, asking them a few questions about the ballet, and as prize, she gave two free tickets to an upcoming Ballet Manila show, Le Corsaire. A Q&A between her and the audience followed. When asked about her life as a ballerina, she openly shared that she has been dancing since age 8 at the St. Theresa's College under Tita Radaic, who tutored ballerinas under the Royal Academy of Dance syllabus. Her stint to study ballet in Leningrad and her celebrated dancing career in Russia and the Philipppines all amount to a 30-year career in dance, despite the injuries and operations she had to endure through the years.
When asked about her main inspiration and support for her dancing, she readily acknowledged her mother, Susan Macuja, whom she said was the one who used to bring her to ballet class. She shared that her mom herself used to be a ballet dancer, but an order by the Pope in the 50's to ban ballet made her stop dancing. Macuja-Elizalde also mentioned the support of her husband Fred Elizalde, a business magnate who has fully backed the ballerina's dancing career and has helped Ballet Manila to emerge with some of the strongest and best-paid professional dancers in the country. Both her mother and husband were present and were warmly acknowledged in the audience.
I appreciate attempts like this to engage one's audience to bookend a ballet performance, which can always help demystify a dance form that has been long considered elitist.
To have one's body colonized by various roles and characters in three decades of dancing is no mean feat. But more than that, it is how Macuja-Elizalde has kept herself grounded and free from the airs and mystique of a "diva ballerina" that I find remarkable.
— BM, GMA News
Rina Angela Corpus is an assistant professor at the Department of Art Studies, University of the Philippines. Her research interests include feminist aesthetics, dance history and alternative spiritualities. She trained with the Quezon City Ballet and Limon Dance Institute in New York. You may visit her writings at Dance of Stillness.