NBA
:

Visiting CSKA Moscow notches OT win versus Timberwolves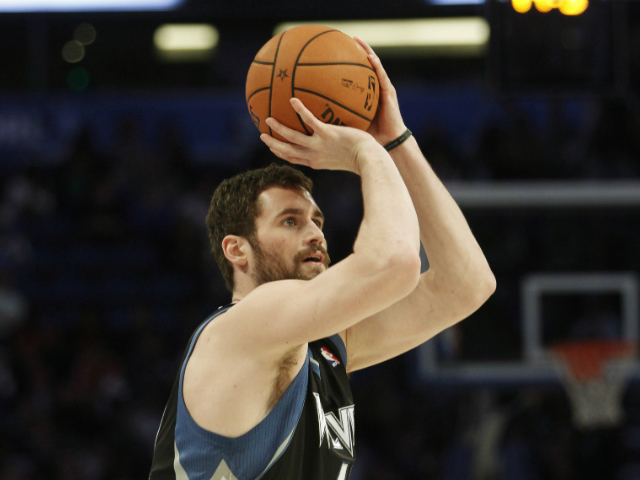 Minnesota Timberwolf Kevin Love.
Jeff Haynes / Reuters
It took an extra five minutes, but the visiting CSKA Moscow squad was able to hang on against the Minnesota Timberwolves, beating their NBA opposition 108-106 at the Target Center in Minneapolis, as part of the T-Wolves' preseason schedule, Monday (Tuesday, PHL time).
Minnesota had chances to win on the last possessions of the fourth and overtime, but in regulation, Derrick Williams' layup failed to connect with 1.9 seconds, while in extra time, it was Othyus Jeffers' turn to miss up close with a second to go.
In both instances, Milos Teodosic proved clutch, hitting two charities to force the extra period, and then splitting game-clinching free throws to arrive at the final score.
Teodosic finished with 26 points, five rebounds and nine assists. Vitaly Frizdon and former NBA starter Nenad Krstic each scored 13, while Sasha Kaun, who played collegiate ball in the US, added 12 points and nine rebounds.
Another former NBA rotation player, team captain Viktor Khryapa, tallied 11 points, eight rebounds and six assists before fouling out, while journeyman Jannero Pargo scattered 11 markers and also dished out six dimes.
Minnesota boasted of a two-possession lead, 92-88, with 1:17 left in regulation, but Teodosic canned a triple and Khryapa split charities to knot things up.
An and-one play by Derrick Williams put the T-Wolves up three, 95-92, 34 seconds remaining. Kaun made a lay-up off a Teodosic assist, but Ronnie Price could only manage a split for a two-point buffer, which was later erased by Teodosic free throws, resulting in overtime.
Minnesota put up a two-point lead, 103-101, halfway through OT, but back-to-back scores by CSKA Moscow flipped the tables on their foes. Price canned a jumper to equalize things, just under a minute left, but Pargo's layup proved to be the go-ahead score, as Williams could only split on the next opportunity. Teodosic's charity then sealed the deal with nine seconds to go.
Derrick Williams finished with 21 points on 7-of-15 shooting, 7-of-12 from the stripe. He also had nine rebounds in 30 minutes. Free agent signee Kevin Martin added 16 points, but missed 10-of-15 attempts, while Kevin Love looked good in limited minutes, posting nine points, seven rebounds, five assists and a steal versus just one turnover.
The Timberwolves struggled with their shooting the entire game, making just 41.2 percent from the field, 19.0 percent from beyond the arc. CSKA on the other hand shot 52.5 percent on all attempts.
- AMD, GMA News