Sinkholes appear in quake-hit Bohol and Cebu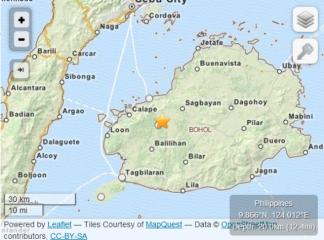 Bohol quake epicenter. The USGS recorded the M7.2 earthquake last October 15 at approximately 2km northeast of the city of Catigbian on Bohol Island, between Sagbayan and Balilihan. USGS
Six large sinkholes appeared in Loob,Bohol and Lapu-Lapu, Cebu after the 7.2-magnitude earthquakes which struck Central Luzon on Tuesday, according to Mines and Geosciences Bureau (MGB) in a report on GMA News' "24 Oras" newscast.
Residents of the barangays affected woke up to holes three meters wide and five feet deep, spurting mud from its depths.
The MGB of the Department of Environment and Natural Resources noted that the entire Bohol area had an underground layer of limestone, and was thus vulnerable to sinkholes.
"Halos 80% ng Bohol ay limestone... Karagdagan 'din 'yan sa mga hazard natin dahil kung paano kung hindi pala natin nama-mapa 'yung mga kababayan natin na nagtatayo ng bahay sa ibabaw niyan," said Dir. Leo Jasareno of MGB-DENR, who went on to explain that such a thin top layer is vulnerable to collapsing.
Other areas the MGB said that may develop sinkholes are Andao, Dauis, and Mayan, which are all in Bohol.



After the earthquake struck, the MGB said it immediately worked on geohazard mapping, to note which areas may be further affected by the quakes.They are planning to use ground-penetrating radar to know which areas may also form sinkholes in Cebu and Bohol.
Locals have also noticed that the holes may have affected the water they retrieved from underground sources. They noted the water to be almost-entirely yellow.
Authorities were quick to advise the locals not to drink the water. Since all bottling stations in the area are closed, residents are struggling to find clean, drinking water. However, with a water filtration system on route from Makati City, they may be able to receive clean water again.
The government is also focusing on the
rehabilitation
of hospitals and other public buildings in Bohol and Cebu, to accommodate victims of the quake-hit areas.
They are also being urged to lend heavy equipment to operations still
searching for people
trapped in rubble in isolated areas.
— RT/ELR, GMA News