Benhur Luy says Napoles fears him, wants him silenced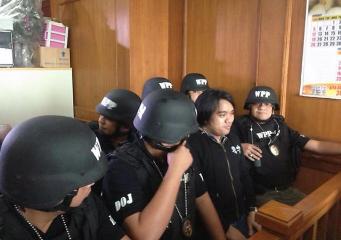 Benhur Luy attends hearing on serious illegal detention case. Whistleblower Benhur Luy is flanked by his security escorts during a hearing at the Makati City RTC Branch 150 on Friday, October 25, over the serious illegal detention charge he filed against controversial businesswoman Janet Lim-Napoles. Julius Segovia
Benhur Luy, the whistleblower in the alleged P10-billion pork barrel scam, on Friday said his former employer Janet Lim-Napoles wanted him silenced because of his vast knowledge of her transactions with the government.
Luy, testifying during Napoles' bail hearing at the Makati City Regional Trial Court, said he learned this from Monsignor Josefino Ramirez, head of Bahay San Jose, a Napoles-owned retreat house in Magallanes Village where he was detained by Napoles and her brother Reynald Lim.
"Natatakot si Jenny (Napoles), marami ka raw alam," Luy quoted Ramirez as telling him when he confessed to the prelate on January 9, 2013.
"Ang nakikita ko Benhur, baka ipaligpit ka," Ramirez also reportedly said.
Luy said he then begged Ramirez to ask Napoles to let him go. He said Ramirez agreed to do so. A month later, however, Ramirez told him he has yet to talk to Napoles as she was out of the country.
Luy said Ramirez reiterated that Napoles was afraid of him. "Takot na takot si Jenny dahil marami kang nalalaman. Ikaw lang ang nakakaalam ng sikreto sa opisina, ikaw lang ang pinagkakatiwalaan niya," he quoted Ramirez as saying.
Deep trouble
Luy said Ramirez told him he is in deep trouble. "Mahirap na i-fix ang problema, nagkabuhol-buhol na, mahirap na isa-isahin, mahirap ayusin ulit," he quoted Ramirez as saying.
It was during that conversation when Luy first learned that Napoles was accusing him of taking millions of money from her. "Nagnakaw ka daw ng pera sabi no Jenny," Ramirez allegedly said.
Luy said he told the prelate that in his 10 years with Napoles, he never did such thing. "Nasa kanila ang passbook ko, tignan nila kung andun yung milyon na pinagsasabi nila," he said.
Luy said he once again asked Ramirez to talk to Napoles, who allegedly gives Ramirez a monthly stipend of P150,000.
When Lim, Napoles' co-accused in the serious illegal detention case, brought Luy to the retreat house on December 20, 2012, he allegedly told Ramirez that Luy was being hunted by mayors and senators.
"Kung lulusubin ang Magallanes, hindi magagalaw dahil ang nakatira ay mga pari at isang monsignor," Luy recalled Lim as telling Ramirez.
Luy said Lim ordered Ramirez not to allow him to talk to anyone. When Ramirez asked until when Luy would stay at the retreat house, Lim allegedly said one month.
Draft
When Lim returned to the retreat house on December 22, he brought with him Luy's laptop and some documents. Scrolling the contents of the laptop, Lim found among the documents a draft of a list submitted to the Senate through the committee on finance.
Lim accused Luy of using the draft to conduct his own transactions with the senators. Luy said he explained to Lim that he made the draft whenever Napoles would order him to do something during weekends.
On December 24, 2012, Lim arrived and told Luy that they will be meeting his mother. Before the meeting, Luy said Lim told him to tell his mother that he is staying at Discovery Suite and not in the retreat house.
"Papatayin yung pamilya ko o ako pag magtatangka akong magsumbong," Luy said.
Luy said he spent Christmas and New Year alone in the retreat house.
"Nagsialis sina Monsi(gnor). Hindi ako umalis kasi bukod sa may gwardya natatakot ako kung ano ang gagawin nila sa aking pamilya," he said.
Slow examination
The direct examination of Luy was suspended around 5:30 p.m. and will resume on October 29 and 30 at 9 a.m.
Napoles counsel, Lorna Kapunan, questioned the slow examination on Luy, saying it is eating the time of the defense to present their evidence.
"There should be time management. This will further delay the bail hearing," said Kapunan.
Makati RTC branch 150 Judge Elmo Alameda said he cannot order the prosecution to shorten the examination of the witness.
"As long as the testimony is material and relevant and the witness is qualified (the court will allow it). I really want to order the prosecution to cut it short but I cannot," said Alameda.
The judge also assured Kapunan that the defense "will be given all the leeway you want to present its evidence."
— KBK, GMA News