Bicol, Eastern Visayas to prepare for possible super typhoon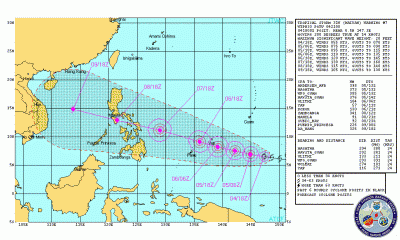 US Navy's typhoon warning center sees coming super typhoon. The Joint Typhoon Warning Center of the United States Navy said in a forecast Tuesday morning that the next cyclone approaching the Philippines could have peak near-center winds of 130 knots and gusts of 160 knots when it hits the country late Thursday or early Friday. US Navy/JTWC
(Updated 4:08 p.m.) Disaster preparedness officials in the Bicol and Eastern Visayas regions are now preparing for the possible super typhoon that could hit several provinces in their areas on Thursday.
In a phone interview with GMA News Online on Tuesday, Jessan Adornado, Bicol's Office of Civil Defense's public information officer, said disaster management officials have been informed of a cyclone approaching from the east that may have the makings of a super typhoon.
Adornado said Bicol's OCD Dir. Bernardo Alejandro met with local government officials to discuss the possible preparations, including the prepositioon of "all assets or resources that can be used."
He added that they are now encouraging a preemptive evacuation "as early as tomorrow sa mga residents sa low-lying areas" in the region.
Earlier Tuesday, PAGASA forecaster Fernando Cada said the cyclone, internationally codenamed
Haiyan
, is moving westward at 20 kph and may make landfall over Eastern Visayas or the Bicol Region.
Once Haiyan enters the Philippine Area of Responsibility, it will be codenamed Yolanda.
"80 percent ng Bicol Region [ang] maaaring tamaan [ng typhoon]," Adornado said.
Meanwhile, Clint Morales, Eastern Visayas's Office of Civil Defense's supply officer, told GMA News Online that an emergency meeting with disaster preparedness officials in the region was called around 1 p.m. on Tuesday to discuss the preparations.
Preemptive evacuation
For his part, National Disaster Risk Reduction and Management Council spokesman Major Rey Balido said in an interview on GMA News TV's Balitanghali that local government units in the Bicol and Eastern Visayas Regions should conduct a preemptive evacuation to residents living in landslide-prone areas.
Balido said that LGUs have been given copies of Mines and Geosciences Bureau's study on where the landslide prone areas in the country are located.
Balido said residents living in areas classified as a danger zone but refuse to leave should be forced to evacuate.
GMA News' resident meteorologist Nathaniel Cruz shared with GMA News Online on Tuesday that as early as now, disaster preparedness officials must advise residents of Bicol and Eastern Visayas that Haiyan could hit their areas at typhoon strength at the very least.
PAGASA defines a super typhoon as one having maximum winds greater than 200 kph.
Cruz said the coming cyclone is expected to be a typhoon by the time it enters the PAR.
He added that "the crucial period to monitor is that time frame before the typhoon makes landfall."
Cruz explained that in coming forecasts, weather conditions could change "that could either make the cyclone stronger or weaker." He noted though that current forecasts show the cyclone gaining strength and may become a super typhoon. — RSJ, GMA News