At least 14,000 leave their homes in anticipation of Yolanda's fury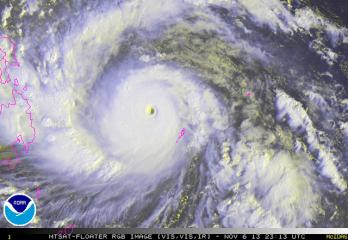 Entire nation on alert as Yolanda barrels towards Friday landfall. Typhoon Yolanda is seen approaching the Philippines in this NOAA satellite image taken Wednesday, November 6, at 23:13 UTC (7:00 a.m. Thursday, PHL time). Local authorities evacuated coastal areas and put emergency workers on alert as the storm is expected to grow into a super typhoon headed towards the Visayas, which is still recovering from a 7.2 magnitude earthquake that hit last month. Reuters/NOAA
At least 14,389 people were preemptively evacuated from their homes in parts of Visayas and Mindanao due to the threat from Typhoon Yolanda (Haiyan).

The National Disaster Risk Reduction and Management Council's 6 p.m. update indicated 910 families or 3,823 people were brought to 14 evacuation centers.
It said the affected families were from Tacloban City and Tolosa in Leyte, Catbalogan in Eastern Samar, Gigaquit in Surigao del Norte, and Gingoog City in Misamis Oriental.
Of these, 738 families or 3,015 people were from Tacloban City in Leyte.
In Central Visayas, state-run Philippine Information Agency said that as of 8 p.m., another 1,935 families or 10,566 people were evacuated.
It said these included:
Siquijor: 9 families or 32 persons
Lapu-Lapu City, Cebu: 1,339 families or 6,378 people
Mandaue City, Cebu: 587 families or 4,156 people in 15 evacuation centers

Passengers stranded

The NDRRMC said at least 1,724 passengers were stranded along with 16 vessels, 14 rolling cargo vessels, and 181 motor bancas in Bicol, Western Visayas, Central Visayas and Eastern Visayas.
The NDRRMC also said at least 11 domestic flights were canceled.
It is expected to exit the Philippine area of responsibility Saturday night.

Expats told: Follow local authorities
Even before the storm hit, nationals of at least four countries in the Philippines were advised Thursday to take precautions against possible bad weather from Typhoon Yolanda.
Australia, the United Kingdom, Canada, and France issued separate updates to their travel advice on the Philippines, urging nationals to heed instructions from Philippine authorities.

In its updated travel advisory, Australia said Yolanda has the potential to cause flooding and may disrupt essential services and infrastructure.

"Australians should monitor local media for information on local safety arrangements and latest weather reports,"
it advised
.
"Those affected by the storm should follow the instructions of local authorities. You should also check with tour operators and travel providers for latest information on any travel disruptions," it added.
Australia also advised its nationals to identify their local shelter, and to keep travel documents such as passports, photo identification or secure them in a safe, waterproof location.
"Flooding is frequent following heavy rains, even in central Manila. Be careful when moving around cities during extreme weather conditions as roads can quickly become flooded and impassable," it added.
Meanwhile, the French Embassy in Manila recommended that people take all necessary precautions such as having water, lamps and batteries, radio, blankets, and travel documents ready.
Bohol braces for aftershocks and heavy rains
In Bohol province, aftershocks from last month's magnitude-7.2 quake and the threat from Typhoon Yolanda are hounding residents of a town hit hard by October's deadly tremor.
Residents in Loon town are still feeling aftershocks and are worried about the "combination" of the typhoon and tremors, state-run Philippine Information Agency reported over Twitter Thursday afternoon.
"(In Loon, Bohol), aftershocks still felt here, (and) people (are) worried (about the) possibility of combination of typhoon and shocks happen," it said.

Loon folk are still recovering from the effects of last month's magnitude-7.2 quake. — JDS, GMA News