Yolanda makes landfall in Guiuan, Eastern Samar – PAGASA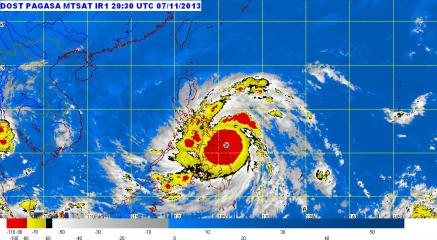 Yolanda landfall in Eastern Samar, heralded by high storm surges. Yolanda slams into Eastern Samar with storm surges up to 5 meters tall and maximum sustained winds of 235 kph near the center and gustiness of up to 275 kph, according to the Department of Science and Technology. PAGASA
Typhoon Yolanda (Haiyan) made landfall over Guiuan in Eastern Samar at 4:40 a.m. Friday, state weather forecasters said.
At least 21 areas were placed under Storm Signal No. 4 as Yolanda made landfall over Guiuan in Eastern Samar before dawn Friday.
In its 5 a.m. advisory, PAGASA said Yolanda struck Guiuan with maximum sustained winds of 235 kph near the center and gustiness of up to 275 kph.
PAGASA said Yolanda, after making landfall, may cross Biliran, the northern tip of Cebu, Iloilo, Capiz, Aklan, Romblon, Semirara Island, the southern part of Mindoro then Busuanga.
It will exit the Philippine land mass early Saturday morning, and move towards the West Philippine Sea.
Yolanda is forecast to move west-northwest at 39 kph and is projected to be 240 km west-northwest of Coron, Palawan Saturday morning.
By Saturday afternoon, it is expected to be 720 km northwest of Coron, Palawan or outside the Philippine Area of Responsibility.
Storm signals
PAGASA said 21 areas are under Signal 4, 13 under Signal 3, 16 under Signal 2, and eight under Signal 1.
Under Signal No. 4 are:
Masbate
Ticao Island
Southern Sorsogon
Romblon
Northern Samar
Eastern Samar
Samar
Leyte
Southern Leyte
Biliran
Northern Cebu
Cebu City
Bantayan
Camotes Islands
Northern Negros Occidental
Capiz
Aklan
Antique
Iloilo
Guimaras
Dinagat Province
Under Storm Signal No. 3 are:
Rest of Sorsogon
Burias Island
Albay
Marinduque
Occidental Mindoro
Oriental Mindoro
Calamian Group of Islands
Rest of Negros Occidental
Negros Oriental
Rest of Cebu
Bohol
Surigao del Norte
Siargao Island
Under Signal No. 2 are:
Catanduanes
Camarines Sur
Southern Quezon
Laguna
Batangas
Rizal
Metro Manila
Cavite
Bataan
Lubang Islands
Northern Palawan
Puerto Princesa
Siquijor
Camiguin
Surigao Del Sur
Agusan Del Norte
Under Signal No. 1 are:
Camarines Norte
Rest of Quezon
Polilio Island
Bulacan
Pampanga
Zambales
Misamis Oriental
Agusan del Sur
Rainfall
PAGASA said Yolanda may bring heavy to intense rainfall of 10.0 to 30.0 mm per hour within its 400-km diameter.
"Sea travel is risky over the seaboards of Northern Luzon and over the eastern seaboard of Central Luzon," it said.
It warned residents in low-lying and mountainous areas under storm signals 2 to 4 to be alert against possible flash floods and landslides.
Also, it said those in coastal areas under signals 2 to 4 should be alert against storm surges that may generate waves of up to seven meters.
Project NOAH of the Department of Science and Technology indicated the highest storm surge is expected at 2 p.m. Friday in Leyte, at 5.2 meters; and at 8 a.m. Friday in Eastern Samar at 4.7 meters.
Andis Island in Port Borongan, Eastern Samar may expect a storm surge of 3.3 meters at 8:30 a.m. Friday.
Tacloban and Palompon in Leyte may expect storm surges of 3.6 meters at 10 a.m. and 1:20 p.m. Friday respectively.
Also on Friday, Cebu may expect a storm surge of 3.4 meters in Tuburan at 1:20 p.m.
—
ELR, GMA News