World's most powerful typhoon hits Philippines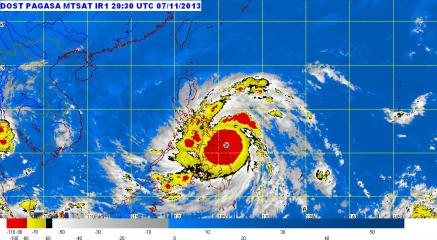 Yolanda landfall in Eastern Samar, heralded by high storm surges. Yolanda slams into Eastern Samar with storm surges up to 5 meters tall and maximum sustained winds of 235 kph near the center and gustiness of up to 275 kph, according to the Department of Science and Technology. PAGASA
(Updated 1:53 p.m.)
Super Typhoon Yolanda (Haiyan), the most powerful storm in the world this year and potentially the strongest recorded typhoon to make landfall, hit the Philippines on Friday, as millions of people huddled indoors and business in vulnerable areas shut down.
A maximum category-five super typhoon,
Yolanda smashed into Guiuan, Eastern Samar
, about 600 kilometers southeast of Manila, at 4:40 a.m. (2040 GMT Thursday) and was traveling quickly northwest, state meteorologist Romeo Cajulis told AFP.
"The super typhoon likely made landfall with winds
near 195 mph (313 kph). This makes Haiyan the
strongest tropical cyclone (typhoon) on record to
make landfall," said Jeff Masters, a hurricane
expert and director of meteorology at US-based
Weather Underground, reported Reuters.
After making landfall in Guiuan, Yolanda made a
second landfall over Leyte
province in the Dulag-Tolosa area at about 7 a.m., PAGASA said.
Yolanda again made a
third landfall over Daanbantayan at the northern tip of Cebu
, radio dzBB's Sam Nielsen reported.
Yolanda whipped up giant waves as high as 4-5 meters (12-15 feet) that lashed the islands of Leyte and Samar, and was on track to carve a path through popular holiday destinations.
President Benigno Aquino III had on Thursday warned his countrymen to
make all possible preparations for Yolanda
, which was packing monster wind gusts of nearly 380 kilometers (235 miles) an hour as it approached the Philippines.
"To our local officials, your constituents are facing a serious peril. Let us do all we can while (Yolanda) has not yet hit land," Aquino said in a nationally televised address.
"We can minimize the effects of this typhoon if we help each other. Let us remain calm, especially in buying our primary needs, and in moving to safer places."
Aquino warned areas within the expected 600-kilometer typhoon front would be exposed to severe flooding as well as devastating winds, while coastal areas may see waves six meters (20 feet) high.
"We are fearful because there is talk that the sea will rise," an elementary school teacher in Southern Leyte province who only gave her name as Feliza told a local radio station.
"We can feel the powerful winds, our school is now packed with evacuees. Trees in coastal areas have already fallen."
As of Friday, about a million people are in shelter areas in more than 20 provinces, Reuters reported.
Authorities said
schools in the storm's path were closed
, ferry services suspended and fishermen ordered to secure their vessels.
Yolanda is forecast to pass just north of the Philippines' second largest city Cebu, home to around 2.5 million people.
Commuter bus services stopped as the storm dumped torrential rain and ripped galvanized iron roofs off buildings and houses, Reuters said.
Twenty navy ships, three C-130 air force cargo planes and 32 military helicopters and aircraft were on standby. An army spokesman on southern Mindanao island said a man was killed in a shelter area when he was electrocuted by a toppled power line.
Schools, offices and shops in the central Philippines were closed, with hospitals, soldiers and emergency workers were preparing for rescue operations.
In Manila, which was not directly in the typhoon's path but still expected to feel some of its impact, many schools were also closed.
Philippine Airlines, Cebu Pacific and other carriers announced the
suspension of hundreds of flights
, mostly domestic but also some international.
Power outages and interruptions were experienced
in parts of Southern Luzon and Visayas on Thursday night and Friday morning amid the fury of Typhoon Yolanda.
As of Friday morning, power supply was cut off in the following areas: Tagbilaran City in Bohol; Toledo City; Quiot, Pardo in Cebu City; San Francisco in Camotes, Cebu; and Torrijos and Buenavista in Marinduque.
There is also total blackout in Leyte province, said Leyte Governor Roger Mercado on News to Go.
"Do not underestimate the strength of Yolanda. Marami ng puno ang nabuwal, power lines na bumagsak. Malakas ang alon. Mabuti na lang low tide. Na-evacuate na ang mga tao sa coastal areas," Mercado added.
"We can hear the winds howling but the rains are
not too strong. We have encountered several
distress calls regarding fallen trees and power
lines cut. We don't have power now," Samar Vice
Governor Stephen James Tan said in a radio
interview.
Contact was lost with some towns and villages in Samar, said local officials. More than 41,000 people have been evacuated in the province, one of the country's poorest.
"The whole province has no power," Samar Governor Sharee Tan told Reuters by telephone. Fallen trees, toppled electric posts and other debris blocked roads, she added.
On Bantayan Island, off Cebu's northern coast, one person was missing and another pinned beneath a tree, said Neil Sanchez, head of Cebu's provincial disaster agency.
"We still don't know if the person was just injured or a fatality because the phone lines were cut," he said.
Typhoon path
Cajulis said Yolanda was traveling quickly, at 39 kilometers an hour, and would travel across the country towards the South China Sea (West Philippine Sea) throughout Friday.

PAGASA said Yolanda is expected to exit the Philippines late on Saturday and then move into the South China Sea (West Philippine Sea), where it could become even stronger and threaten Vietnam or China.
State weather forecaster Glaize Escullar said on Thursday Yolanda was expected to hit areas still recovering from a devastating storm in 2011 and from a 7.2-magnitude quake last month.
They include the central island of Bohol, the epicenter of the earthquake that killed 222 people, where at least 5,000 survivors are still living in tents while waiting for new homes.
Other vulnerable areas are the port cities of Cagayan de Oro and Iligan on the southern island of Mindanao, where flash floods induced by Tropical Storm Sendong (Washi) killed more than 1,000 people in December 2011. Sendong displaced 300,000 and destroyed more than 10,000 homes.

The storm's path also includes the resort island of Boracay and other holiday destinations.
Yolanda had maximum sustained winds on Friday morning of 315 kilometers an hour, and gusts of 379 kilometres an hour, according to the US Navy's Joint Typhoon Warning Center.
PAGASA, which typically gives lower wind readings, said the maximum gusts on Friday morning were 275 kilometers an hour.
But even that reading would still make Yolanda the world's strongest typhoon this year, according to David Michael Padua, a meteorologist with the Weather Philippines Foundation, a storm monitoring organization that runs the
www.weather.com.ph
website.
Super typhoons and cyclones with winds around 300
kph are so powerful they can blow apart storm-proof
shelters due to the huge pressures they create,
which can suck walls out and blow roofs off
buildings, according to engineers.
The world's strongest recorded typhoon, cyclone or hurricane to previously make landfall was Hurricane Camille in 1969, which hit Mississippi with 190 mph winds, said Weather Underground's Masters.
The Philippines is battered by an average of 20 major storms or typhoons each year, many of them deadly, but scientists have said climate change may be increasing their ferocity and frequency.

Yolanda is the 24th such storm to batter the Philippines this year.
The Philippines endured the world's strongest storm of 2012, when Typhoon Pablo (Bopha) left about 2,000 people dead or missing on Mindanao island in December.
In September, category-five Typhoon Odette (Usagi), with winds gusting of up to 240 kph (149 mph), battered the northern island of Batanes before causing damage in southern China.
—With Agence France-Presse, Reuters/KG/LBG/RSJ, GMA News