UN disaster assessment team stunned by Yolanda-wrought devastation in Tacloban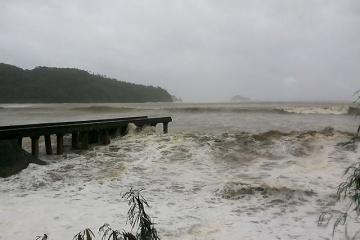 Yolanda spawns big waves in Catanduanes. Strong waves batter the wharf in Gigmoto, Catanduanes at the height of super typhoon Yolanda on Friday, November 8. The strongest storm on earth this year, Yolanda slammed into the Central Visayas region on November 8 forcing thousands of people to move to safer ground and storm shelters, cutting power and phone lines, and grounding air and sea transport. James Tan via YouScoop
A United Nations Disaster Assessment Coordination Team (UNDAC) arrived this morning in Tacloban City. Even such a hardened team of humanitarian workers were shocked upon witnessing the scenes of total devastation in the city where Typhoon Haiyan (locally known as Yolanda) first struck.
Helicopter is the only means of travel at the moment, as the roads are impassable from the airport to the town. Trees and telephone poles lie unmoved across many roads. Even motorcyclists decline the journey, and so many people walk aimlessly, in search of food for their bellies, warmth to keep close, and a place to lay their dead if only for a little while.
Sebastian Rhodes Stampa, head of the UNDAC team, reported this morning that there is an unprecedented level of destruction.
"The last time I saw something of this scale was in the aftermath of the Indian Ocean Tsunami," according to Stampa. "This is destruction on a massive scale. There are cars thrown like tumble weed and the streets are strewn with debris."
The UNDAC team arrived to prepare the ground work for an inter-agency humanitarian
assessment. "There roads between the airport and the town are completely blocked and relief operations will be extremely difficult," he added.
The acting Resident and Humanitarian Coordinator in the Philippines Dr. Julie Hall said. "We wish to extend our deepest sympathy to the Government and the people of the Philippines, who have been affected by this devastating typhoon which appears to have caused significant damage across a large tract of the Visayas."
She continued, "We are working very closely with the Government and are ready to respond in any way we can to this tragedy." —
VC, GMA News