18-member US medical-surgical team to help Yolanda victims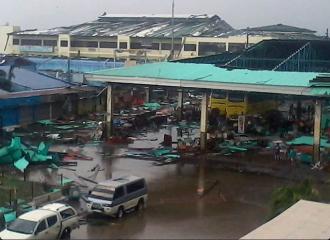 Yolanda wreaks havoc in Leyte. Super Typhoon Yolanda wrecks the Ormoc City bus terminal in Leyte after it made landfall Friday morning. Yolanda packs maximum sustained winds of 235 kph near the center and is considered one of the strongest storms in recorded history. mimikins sandy via YouScoop
An 18-member medical-surgical team from the United States will be among the first overseas responders to arrive and help victims of Super Typhoon Yolanda.
The Philippine Embassy in Washington said the team from California-based Mammoth Medical Missions was due to arrive in Manila early Sunday and head for Tacloban City.
"
Mammoth Team is made up of three full surgical teams
trained in humanitarian and emergency disaster relief, medical response and field triage," the embassy said.
The team was initially heading to Mexico
, but when it learned of the destruction caused by Yolanda, they diverted to the Philippines instead.
The team left Los Angeles Friday night, and they hoped to deploy, along with Manila-based Pilipinas 911, to Tacloban immediately upon arrival from Los Angeles.
Official numbers so far place the the death toll form Yolanda at 138.
Red alert
The Metropolitan Manila Development Authority deployed two teams to help in search-and-rescue work
in the Eastern Visayas.
The teams arrived in Cebu late Saturday and are expecte to land in Letye and Samar at daybreak Sunday.
In Manila, the Department of Health raised a
red alert in all hospitals in Yolanda-affected areas
.
"All hospital personnel must be in their posts 24/7," said National Epidemiology Center head Dr. Enrique Tayag.
Tayag also said the DOH was swamped with volunteer doctors and nurses who want to join medical missions.
"SALAMAT PO...
Please call 027111001 or contact 09209498419
," he said.
— DVM, GMA News
.