Donaire scores come from behind knockout over Darchinyan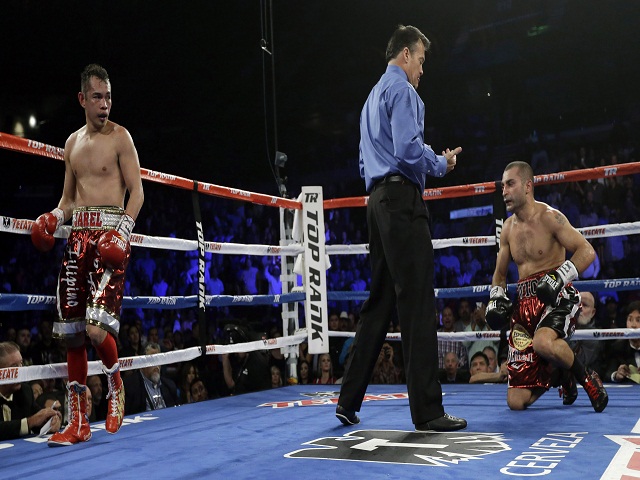 Nonito Donaire, left, steps back after knocking Vic Darchinyan to the mat during round nine of their featherweight rematch. Eric Gay / AP Photo
Nonito Donaire rocketed to stardom back in 2007 with a dominant knockout win over Vic Darchinyan. This time, he hopes to relaunch his career after earning another win over his old foe, a come-from-behind ninth round knockout win, Saturday (Sunday, PHL time) at the American Bank Center in Corpus Christi, Texas.
Down in two of the three judges' scorecards, Donaire needed something big in the closing rounds of the fight to change the outcome. Absent in the first eight rounds of the fight, the old Donaire finally showed up to finish things in the ninth.
Trouble started for Darchinyan when he took one of Donaire's familiar left hooks early in the round. Donaire then knocked him down later with yet another left hook. Darchinyan fell through the ropes in what looked like a replay of the knockdown back in 2007. The Armenian gamely stood up, but with 1:30 still left in the round, and on wobbly legs. The Filipino Flash continued to land bombs until referee Lawrence Cole stepped in to stop the fight and save Darchinyan.
The official time was 2:06 in the penultimate round
"I tried to work on a different style, I tried to go back," Donaire said after the fight. "The funny thing is, it didn't work because I wanted to fight."
The two fighters were tentative during the first minute of the fight. The first strong punch was landed by Donaire but it was deemed low by referee Lawrence Cole. Darchinyan continued pawing with his right hand to keep Donaire's left hook from landing. The Filipino responded by throwing a straight right to the body. Darchinyan was then staggered with a big right straight, but he managed to stay on his feet.
Donaire failed to capitalize as he slowed down in the third and fourth rounds, allowing Darchinyan to creep his way back into the fight. The Armenian then scored the best punch of the night at that point as he clocked Donaire with a huge left straight towards the tail end of the fifth round. The Filipino was trapped with his back on the ropes until the bell saved him.
#TweetReplay of "the most dangerous punch that @FilipinoFlash throws" - http://t.co/7S1BKmlzHp

— HBOboxing (@HBOboxing) November 10, 2013

Rounds six to eight were all close but Darchinyan was the constant aggressor. Donaire bounced around the ring, throwing punches from outside, a far cry from the ultra-aggressive style the world saw in the first fight.

"When he hit me on my cheek, I felt he broke it. I was wondering if this was it for me," Donaire said during the post-fight interview. "I put my heart in it and I said that I will never, ever quit."

Both fighters moved up from the super bantamweight division, and are now fighting as full-fledged featherweights. Back in 2007, the two fought as flyweights for Darchinyan's IBF and IBO titles. Both fighters had separate reigns as unified champions, although their paths refused to cross anew until now.

Their 2007 battle was a fork in the road for the two fighters. Darchinyan quickly regained fame and fortune as he became the unified WBA, WBC, and IBF super flyweight champion in 2008. However, he suffered decision defeats against Joseph Agbeko, Abner Mares, Anselmo Moreno, and Shinusuke Yamanaka. Two bounce-back wins brought him to this crossroads fight against Donaire.

The Filipino Flash, on the other hand, won an interim WBA title in the super flyweight division. He also won the unified WBO and WBA bantamweight title with a second round knockout victory over Fernando Montiel in 2011. Donaire then successfully moved up to the super bantamweight division where he enjoyed another reign as the unified WBO and IBF title holder, but he lost his last fight against the crafty Guillermo Rigondeaux back in April.

With the win, Donaire's record climbed up to 32 wins against two losses with 21 wins coming via knockout. Darchinyan, on the other hand, fell to 39-6-1 with 28 KOs.

Donaire might be matched up next with Jamaican Nicholas Waiters, the reigning WBA featherweight champion who successfully defended his title earlier in the night with a fourth round knockout victory over Alberto Garza of Mexico. However, Donaire added that he wanted a rematch against Rigondeaux, which means he is thinking of moving back down to the super bantamweight division. - RAF, GMA News