Garcia snags WBO super featherweight title from Martinez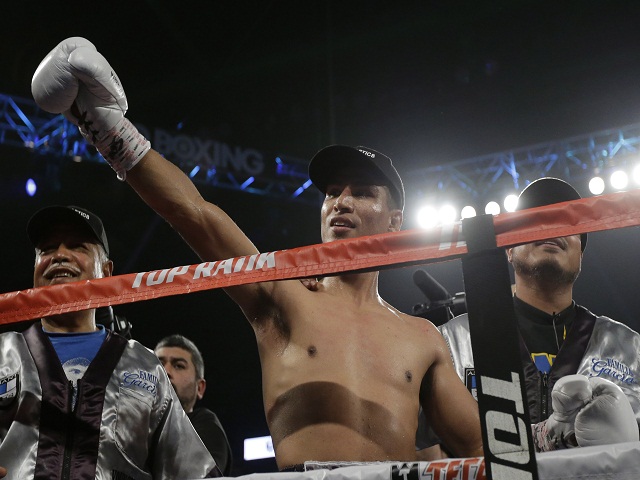 Mikey Garcia took the WBO super featherweight title from former champion Roman Martinez. Eric Gay / AP
In the latest chapter of the fierce boxing rivalry between Puerto Rico and Mexico, Mikey Garcia took the WBO super featherweight title from former champion Roman Martinez with an eighth round knockout victory, Saturday (Sunday, PHL time) at the American Bank Center in Corpus Christi, Texas.
After picking himself up from a knockdown in the second round, Garcia rallied to score the stoppage victory. He hurt Martinez with back-to-back one-twos and ended the night with a bone crushing left hook to the body which dropped the Puerto Rican for the count. With his record now at 33 wins with 28 knockouts, Garcia is enjoying his second world title reign.
"I knew he was going to be a tough guy for me. I got my rhythm and I started to break him down little by little," Garcia said after the fight. "I feel fine. It's part of boxing. He caught me with a good punch. I winked at my corner to tell them I'm fine."
After winning the WBO featherweight title back in January, Garcia lost in June as he failed to make weight for his first title defense. Garcia then defeated Juan Manuel Lopez, which earned him a title shot in his very first fight as a super featherweight.
The first round saw the two fighters measuring distance and throwing probing punches. But the action boiled over as Martinez surprised Garcia in the second round with a short counter right straight for a knockdown.
Getting floored woke up Garcia who handily won the third and fourth rounds. He poured it on in the sixth, rocking Martinez with right straights and left hooks. However, the Puerto Rican stayed on his feet, urging Garcia to continue attacking. Garcia obliged by ending the fight in the eighth round. Martinez hung tough even if Garcia landed multiple clean punches but he finally broke down when Garcia landed a left to the body.
"I'm really happy with the ways things are going for me. People saw another side of Mikey Garcia tonight," the new champion said. "They don't really see body punches from me."
In the undercard, Demetrius Andrade won the vacant WBO light middleweight title with a split decision victory over Vanes Martirosyan, in a battle of undefeated fighters.
After 12 hard-fought rounds, the judges submitted three distinctly different scorecards. One saw it 115-112 for Martirosyan. He was overruled though by the other two, who scored it 114-113 and a wide 117-110 for Andrade.
Martirosyan landed a knockdown early in the first round with a short left hook that Andrade didn't see coming. However, Andrade went back to boxing in the following rounds to clear his head and score some points.
The Armenian-American had a big fifth round as he let his hands go, forcing Andrade to backpedal. Andrade countered with a huge sixth round as he nailed his foe with a big left straight that threw him back to the ropes. Andrade piled on the rounds afterwards as he connected with the cleaner punches.
Martirosyan stayed busy but it was not enough to convince two of the judges to score it in his favor.
Andrade kept his undefeated record, which now stands at 20 wins with 13 knockouts while Martirosyan drops down to 33-1-1 with 21 KOs.
- RAF, GMA News