'Is this a movie?' Ex-actress Cristina Gonzales recalls harrowing experience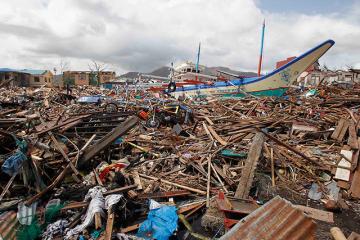 Yolanda's huge waves swept away entire coastal villages. A fishing boat which slammed into damaged houses lie atop debris on Sunday, November 10, after super typhoon Yolanda battered Tacloban City on November 8. Huge waves swept away entire coastal villages devastating the province's main city. Reuters/Romeo Ranoco
Actress-turned-politician Cristina Gonzales-Romualdez revealed she was crying for the first time Monday afternoon, after the she realized the magnitude of the effects of Super Typhoon Yolanda on her adoptive city of Tacloban.
"Di pa ko umiiyak, ngayon pa lang when I see all of this, and when I see all of the people helping, it's overwhelming," Romualdez said in a press conference Monday in a Makati City covered court, where volunteers flocked to repack goods for victims of the typhoon.
A city councilor, Romualdez
became teary eyed as she recalled the devastation, which she, her two daughters and her husband, Mayor Alfred Romualdez of Tacloban, barely survived.
"No city could have been prepared for this. It wasn't a storm surge, it was a tsunami. The waves were probably caused by the storm, but didn't we really expect it. We monitored this for days," Romualdez said.

At first, she believed they would weather the storm, but she soon found herself fleeing to higher and higher ground as rampaging waters flooded their house.
"My kids and I, we had to hang on to what was on the ceiling. We didn't expect the water to be rushing in so fast," Romualdez said.

Initially, she locked herself and her daughters in a car with a driver, believing it would protect them better from falling debris. "Pero nung tumataas na yung tubig, sabi nung driver namin, 'ma'am, labas na tayo dito,'" she recalled.
In the middle of the storm's onslaught, Romualdez and her children, along with her helpers and household staff, sought refuge on the roof of their house.
"I put our 10-year-old near the ceiling. My 14-year-old daughter was saying, 'Ma, I don't want to die, I don't want to die.' I said to her you're not going to die, God's going to save us," Romualdez said.
'Like a movie'
When water started to recede hours after she and around 20 other people climbed onto the roof, Romualdez said she could barely believe the level of destruction that she saw.
"When the water receded, I was so thankful I was alive. I thank God for that protection. But as we sat there, I realized the damage. I thought, is this a dream? Movie ba ito?" Romualdez said, as she wiped her tears.
Romualdez, who counts herself lucky for surviving the typhoon that a lot of her constituents didn't, said she walked out of their ruined house barefoot, arm in arm with other Taclobanons who survived.
"We were all sharing one bottle of Betadine that somebody found. Ganun kalala talaga. Wala na, lahat kami barefoot naglakad palabas," she said.

Mayor was on the ground
Even as she lauded the courage of her fellow Taclobanons, Romualdez said she was hurt over allegations that her husband was nowhere to be found during the tragedy that struck Leyte and other provinces in the Visayas.
"Sinasabi nila, hindi mahanap yung asawa ko, na yung mayor daw nagtatago. Eh, siyempre, disaster yun eh. Busy siya sa immediate aftermath on the ground, magpapa-picture pa ba kami?" Romualdez said.
"Nandun siya. He was operating heavy equipment na nga. He was on the ground, kasi kulang mga tao," Romualdez said, adding that her husband had to be given a change of clothes by a fellow survivor as he was drenched.
Romualdez, who said she will be flying back to Leyte tomorrow or the day after, urged fellow FIlipinos to quit criticizing officials, and instead help the needy, particularly in Tacloban.
"Sana let's not play the blame game. We're all victims here," she said. — JDS, GMA News