Curfew, checkpoints improved situation in Tacloban, Cabinet execs say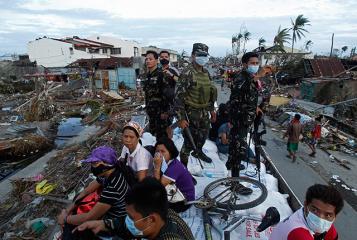 Troops, cops secure delivery of relief goods in Tacloban . Soldiers escort a truck loaded with relief supplies in typhoon-devastated Tacloban City on Monday, November 11. Additional soldiers and policemen were deployed to many typhoon-affected areas in Samar, Leyte, Iloilo, and Cebu following widespread reports of looting. Reuters/Edgar Su
(Updated 5:50 p.m.) Secretary to the Cabinet Jose Rene Almendras on Tuesday said the situation in Tacloban City has improved after a curfew was imposed and checkpoints were set up to thwart looting and other forms of criminality in the typhoon-hit area.

"There is now a curfew, I thought it was 10 p.m. to 6 a.m. curfew. I was just told it is 6 p.m. to 6 a.m.," Almendras told GMA News TV's News to Go in an interview.
"So far, there has been an improvement, no more looting in the commercial district area or 'yung mga mall, stores," he said.
Philippine National Police (PNP) chief spokesperson Senior Superintendent Wilben Mayor described the curfew as being in effect "from dusk till dawn."
"Basta kapag dumilim na, we direct people to go home," he said.
Mayor also noted that looting in the area has been mostly contained, after security personnel arrived in the area.
For his part, Interior Secretary Mar Roxas was quoted in an Agence France-Presse article as telling a radio interview as saying that "the presence of policemen, military and government forces will definitely improve things (but) it will not be overnight."
"It is a tool that we are using to minimize the looting and break-ins. We know some people cannot return home (during the curfew) because their homes were washed away but it is more effective against roving gangs who are looking for targets of opportunity," Roxas said.
Almendras stressed that they are working to regain command and control in the area, and "it is happening po."
"I got a few text messages from my friends in Tacloban, saying yes, things have significantly improved, crime has been significantly reduced," he added.
Checkpoints
Tacloban bore the brunt of Yolanda's wrath with at least 10,000 people feared to have died there, according to the United Nations, an Agence France-Presse article said. As of Monday evening, however, the National Disaster Risk Reduction and Management Council placed the death toll at 1,774.
The devastated provincial capital – a city of 220,000 residents – has also seen some of the worst pillaging. Famished survivors desperate for food and medical supplies have ransacked aid convoys, hampering relief efforts, the same AFP article said.
Survivors have reported gangs stealing consumer goods including televisions and washing machines from small businesses, it added.
The AFP article also quoted Roxas as saying that "four Simba armored personnel carriers had been deployed to contain looting and help restore law and order, a day after hundreds of soldiers and police were sent to the city."
"We are circulating them (the Simbas) in the city to show the people, especially those with bad intentions, that the authorities have returned," Roxas told dzMM radio.
Likewise, Almendras said they are addressing robbery incidents through the setting up of checkpoints.
"On San Juanico side, may text messages na may nanghaharang, may nangongolekta, may highway robbery, that has also been addressed. There are police and military [on] both ends of San Juanico bridge. The approaches all the way to Catbalogan are being secured," he said.
He noted that additional police and military personnel were sent in Tacloban to help bring back the peace and order in the area and to contain looting.
For her part, Tacloban City Councilor Cristina Gonzales-Romualdez, wife of Mayor Alfred Romualdez, concurred that the situation in their city has improved after military personnel arrived in the area.
"Takot rin sila kay mayor, sabihan lang sila na tumigil, titigil na," Gonzales-Romualdez told GMA News Online in an interview.
When asked where the mayor is after Yolanda devasted the area, she said: "He cannot leave, marami pang inaayos. Nakausap na niya si PNoy [President Aquino] nung weekend."
Killed inside homes?
Meanwhile, posts on social networking site Facebook indicated that some subdivisions in Tacloban are still being attacked, with thieves reportedly shooting at residents.
But Gonzales-Romualdez said they have yet to receive reports on the alleged house robbery or killing. "Wala akong nalalamang napatay," she added.
Meanwhile, communication lines have slightly improved in the area though there are still "blind spots."
"On Tacloban itself, may cell signal na. I talked to [Social Welfare] Sec. [Dinky] Soliman on a cellphone today. Not all, only in certain areas. Mayroon tayong blind spot. But we are told everyday there will be an improvement on cell site," Almendras said.
At the same time, Roxas said "the Public Works Department had cleared at least one lane of a highway entering the city, which would speed up entry of supplies. It is hoped that incidences of looting will decrease as food relief flows in to the isolated area."
The DILG chief said "the government's three main priorities were to restore peace and order, bring in relief goods and start collecting dead bodies," the AFP report said.
"Now that we have achieved number one and two, the priority is the recovery of the cadavers," he said.
— with Amanda Fernandez and Agence France-Presse/RSJ/BM, GMA News