South Korea to deploy medical teams to Yolanda-hit areas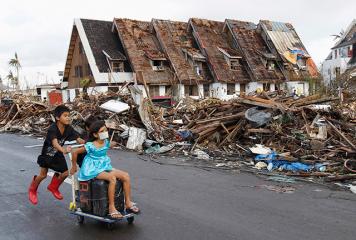 Tacloban residents try to cope with Yolanda aftermath. Children pass by debris and damaged houses as they look for water in typhoon-devastated Tacloban City on Wednesday, November 13. Philippine officials have been overwhelmed by Yolanda, one of the strongest typhoons on record, which tore through central Philippines on November 8 and flattened Tacloban and other towns along its path. Officials fear thousands may have died, many drowning in a tsunami-like wall of seawater. Reuters/Edgar Su
The South Korean government will deploy on Friday medical teams to areas hit by super typhoon Yolanda (Haiyan), the Department of Foreign Affairs (DFA) said.
The DFA, citing information from the Philippine Embassy in Seoul, said the disaster relief teams to be dispatched by South Korea will be composed of 20 medical personnel and 14 paramedics.
The delegation will fly to the Philippines from South Korea through a military aircraft, and will also include two foreign affairs, as well as four staff members from the
Korea International Cooperation Agency (KOICA)
, which is in charge of the South Korean government's grant aid programs to developing countries.
The deployment of the medical teams came a day after South Korean Prime Minister Chung Hong-won directed his government to give additional support to typhoon victims in central Philippines.
"The Philippines is a close ally of South Korea which took part in the Korean War, a home country of mothers of many multicultural families here and a valuable partner for shared growth. We have to do our best to help the people there to overcome the hardships," the South Korean leader was quoted in the DFA statement.
Close to 2 million families were affected by the weather disturbance, considered to be the strongest typhoon on record to make landfall.
Last Tuesday, the South Korean government pledged to donate $5 million (over P217 million) to aid victims of super typhoon Yolanda.