Eastern Samar's Homonhon Island is 'totally devastated' – BFAR
"Totally devastated." These were the exact words Bureau of Fisheries and Aquatic Resources (BFAR) director Asis Perez used to describe the island of Homonhon after reaching it a week after Super Typhoon Yolanda ravaged the Visayas regions.
BFAR Information Officer Nazario Briguera relayed to GMA News Online Perez's description of the destruction in Homonhon during a phone interview on Saturday.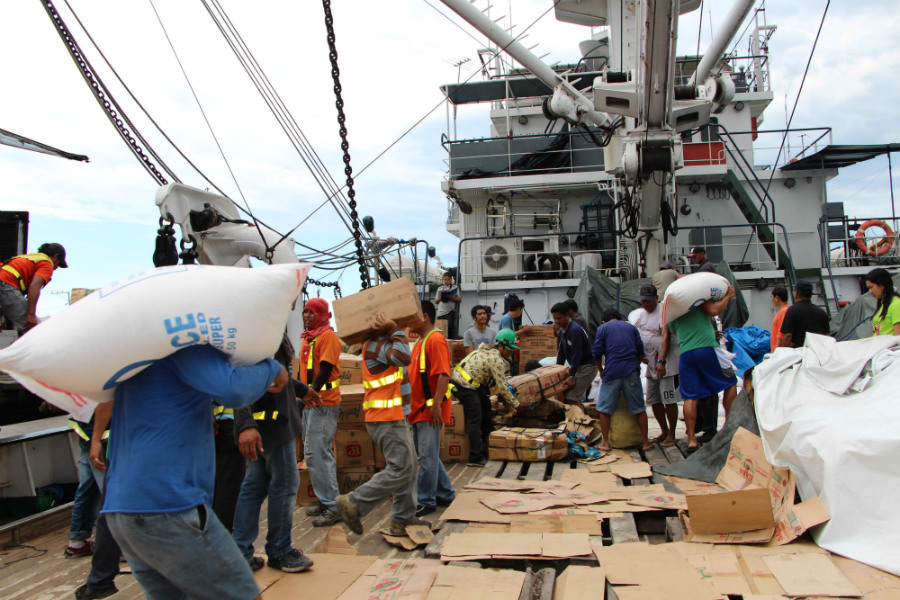 Relief operations for Yolanda victims on board the MV DA-BFAR. (Photo: Nazario Briguera)
Homonhon, an island off Guiuan is located in the province of eastern Samar and was isolated after the calamity thrashed all modes of transport and communication in the area.
Perez, who was aboard MV DA BFAR to bring relief goods to the isolated island, was believed to be the first wave of relief efforts that reached Homonhon.
The BFAR ship brought in at least 700 packs of rice and arrived on the island around 8:30 a.m., Briguera said. He added that there were also tamban (dried) fish, canned goods, bottled water and clothing included in the relief supplies.
Citing information relayed by Asis, he said there were an estimated 1,100 fisherfolk families affected in the island alone across 8 barangays.
No clear information about casualties were available during the interview. But Briguera said Perez did not mention whether he saw bodies littered all over the place like in other areas ravaged by Yolanda.
The MV DA BFAR is a research vessel ship commonly used by BFAR personnel for fishing expeditions. After the calamity it was assigned to bring in relief to badly-hit areas accessible only by sea.
With an estimated capacity of 1,000 tons, the ship left Cagayan de Oro City en route to Homonhon island on Thursday evening to bring in relief supplies.
According to Briguera, the residents of Homonhon have started their rebuilding process on the island even after they were left reeling from the heavy blow dealt by Yolanda.
Instead of relief supplies, the residents were asking for basic building materials such as nails, wood and steel. Still, Briguera assured the BFAR has already contacted other government units to bring more aid to the island.
Yolanda struck the Philippines on November 8, pummeling the Visayas region and leaving behind destruction and shattered homes in its wake. At least 3,631 have died with 12,487 injured and 1,179 still missing based on the latest figures of the National Disaster Risk Reduction and Management Council.
There are also an estimated 9 million people affected with at least P9 billion in damages. — KDM, GMA News