Star Wars fans worldwide unite to help Yolanda survivors
When Darth Vader hands you a collection can, how can you refuse? When a legion of stormtroopers disarms you with their adorable antics, what can you do but give them your money?
But fear not. These are simply members of the 501st Legion of Stormtroopers, and they want to help the families affected by Typhoon Yolanda, internationally known as Haiyan.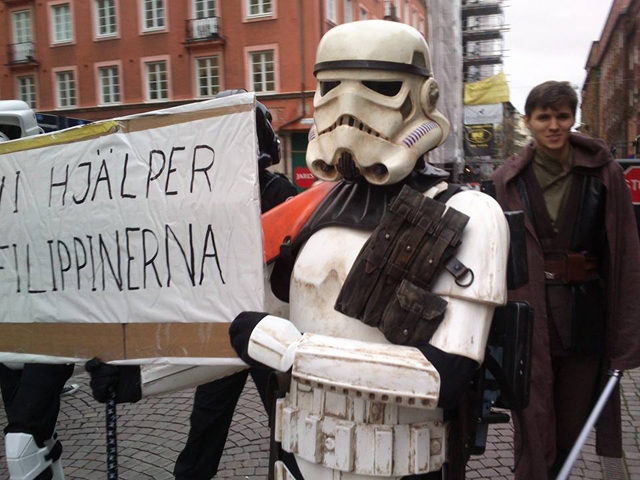 This trooper is bravely gathering donations for the victims of Typhoon Yolanda in the streets of Malmo, Sweden.
Nicky Mezzina, a new member of the Nordic Garrison, saw the devastation caused by Typhoon Yolanda on the news, and decided to help out.
"You find yourself constantly watching what is happening in the world, you learn about how these organizations function, and what role worldwide humanitarian aid plays. One of the most important aspects to charity work is time, to act when it is needed, not when the C130 aircraft already lifted from the airbase," said Mezzina.
"So I did not wait, I created a thread in our forums and started writing, describing each humanitarian organization, explaining what could be done. More members joined the initiative, combined efforts, got in touch with resourceful partners, and we would not stop until things happened," Mezzina finished.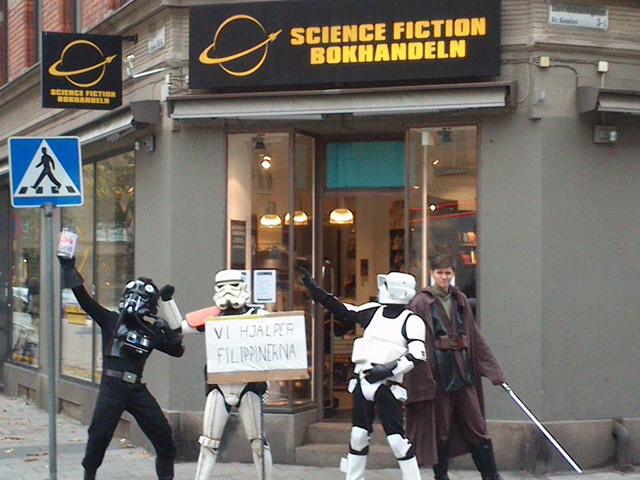 Trooping before the Science Fiction bookstore in Malmo, Sweden.
Mezzina and the other members of the Nordic Garrison were able to organize multiple events within a single week. All donations are geared toward helping the Philippines get back on its feet.
Mezzina shared how even participants under 18 joined the effort. While in costume, the troopers visited birthday parties, attended store openings and a tribute concert to John Williams, and conducted emergency fund drives in the streets and at bookstores in Finland, Norway, and Sweden.
"So a total of over 30 members participated in this fundraiser. We picked the busiest hours, brought our best costumes out for a walk, and through this initiative last weekend, we have managed to collect €3500 (approximately US$ 4,700 or P206,000). And that is only the amount so far."
Mezzina has never even been to the Philippines.
Trooping worldwide
The 501st Legion is an international organization of Star Wars fans who wear the costumes of the bad guys. From popular Sith Lords Darth Maul and Darth Vader to white troopers of all shapes, sizes and designations, the 501st has the whole set.

Trooping before the in Gotherburg branch of the Science Fiction bookstore in Sweden.
Be it the ever popular stormtrooper or the lesser known shadow trooper, the 501
st
has members who wear these costumes, all over the world. With over 6,000 members in all 7 continents worldwide, the Legion is represented in different countries and regions by outposts and garrisons, much like a real galactic army.
The Philippine Outpost, for example, is primarily based in Manila, while the Japanese Garrison has members even outside of Tokyo. The Nordic Garrison, on the other hand, includes members from Norway, Finland, Sweden and Denmark.
But the 501st isn't just about fun and blasters, Death Stars and TIE fighters. Often called 'bad guys who do good,' all of the Legion's appearances are made in exchange for donations to charity, especially to children's causes. Among the charitable organizations the Legion has helped are the Starlight Starbright Children's Foundation, Red Cross and the Make-a-Wish Foundation. A close look at the anatomy of a stormtrooper reveals a soft spot for helping others.
This time, the 501st is targeting its efforts to help the survivors of Typhoon Yolanda.
Stormtroopers send Imperial credits
The Nordic Garrison isn't the only unit of the 501st busy raising funds for Yolanda survivors. 501st members from Japan, Germany, Poland, and the US have sent their donations, as well. Donations are received by the Philippine Outpost through project, Operation New Hope—initiated by the Star Wars Cebu fan club.
Members of the Japanese Garrison sent particularly touching messages with their donations, as they remember fondly the help that was extended to them by the Philippines in their own time of need.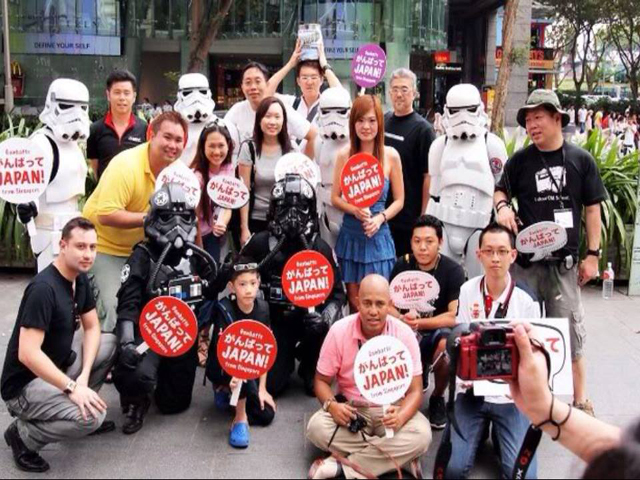 The Singapore Garrison trooped to raise funds for Japan in 2011.
One message, from Masahiko Kojima said, "I hope that the smile of children, in particular, returns heartily."
Not to be outdone, the Singapore Garrison will be working with photography club Clubsnap to collect donations along Orchard Road for two consecutive weekends.
According to Singapore Garrison member Albert Leong, "It [the destruction wrought by Typhoon Haiyan] made me sad. I personally have not been to the Philippines yet. I wish I could do that with my family in the near future. In Singapore, most of us have friends and colleagues from the Philippines. So naturally, we must help them too."
Pinoys are troopers, too
Filipino Eleodoro Madrigal of the New England Garrison, is based in Boston, Massachusetts. He said when he sent his donation, "I wish I could be there to help. Please accept my donation. God bless!"
Closer to home, the Philippine Outpost will also be donning their costumes for fundraising efforts. The Pinoy troops will suit up on Friday, November 22, to collect donations and pose for photos at Bonifacio High Street. Starting at 5pm, this upscale park will be manned by Imperial forces who are just trying to do some good.
Wherever you are in the world, the 501st is doing something to help. So if you see a stormtrooper with a collection can, don't worry, he's not taking you to a detention block AA-23. He just wants to help the families affected by Typhoon Yolanda. — TJD, GMA News