US Embassy Manila issues first fiancé visas for same-sex couples
One legal form of gay equality has finally reached Philippine shores, by way of the US Embassy in Manila.
Noel "Aeinghel" Amaro received this week his fiancé visa so he can marry his American boyfriend, Robert Cotterman, a US soldier who is ending his stint in Afghanistan.
It is the US Embassy in Manila's first same-sex fiancé visa under a new US State Department policy world-wide that treats same-sex fiancé couples just as it does straight couples.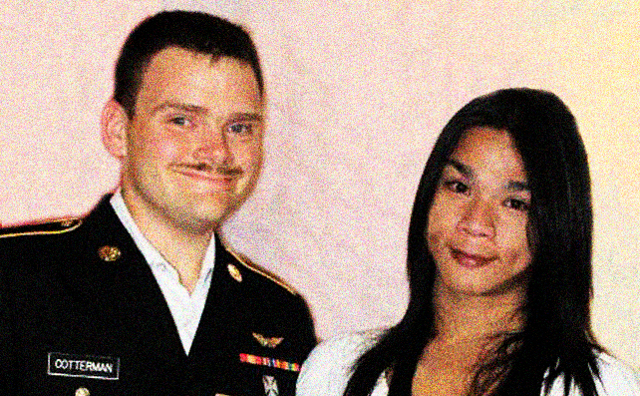 Same-sex couple Robert Cotterman (left) and Noel "Aeinghel" Amaro. Robert Cotterman through Outragemag.com
According to the
US embassy's website
, Amaro and Cotterman met online and are scheduled to marry in the United States in January 2014.
Gay marriage is still not recognized under Philippine law. When asked about it this week,
President Aquino said
it still needs to be studied, specially in light of the possible negative effects on the adopted children of gay couples.
Lesbian couple
The
US embassy also said
in the same announcement that Maria Cecilia Limson Gahuman, a Filipina, and Maria Carla Antonio, an American, received a fiancé(e) visa as well. "With their fiancé visa, the couple will transition their ten-year relationship from long-distance to marriage in California on December 30, 2013," it said.
It added that while same-sex marriage is not yet legal in the Philippines, gay Americans can now "petition for family-based visas on behalf of their Filipino spouses, fiancés, and their children."
The embassy said this stemmed from a landmark decision by the US Supreme Court that struck down the portion of the Defense of Marriage Act (DOMA) defining marriage as a union between one man and one woman.
"Overturning DOMA signifies that the US federal government must extend all federal rights and privileges of marriage to any married couple, regardless of sexual orientation. Currently, gay couples can marry in 16 of 50 American states, and the nation's capital," the embassy said.
Such an extension of rights includes immigration benefits, it added.
The embassy said one of President Barack Obama's priorities has been to advance gay, lesbian, bisexual, and transgender equality.
Adopted son
In an interview in Outrage magazine earlier this year,
her boyfriend Robert Cotterman professed his love
for Amaro and claims to have married her in Baguio in 2012. Some churches in the Philippines marry gay couples, but the union is not recognized legally. The US soldier also said the two already have an adopted son.
Cotterman revealed their plan to get married in America in 2014, "after my unit gets back from deployment. And from then on, we will be living our lives to the fullest that we can." They met through a "random friend request" on Facebook.
"Equality of people"
US Secretary of State John Kerry had
announced the same-sex visas in London
earlier this year, and said one of the "most important exports by far is America's belief in the equality of all people."
Kerry added "the State Department, which has always been at the forefront of equality in the federal government... is tearing down an unjust and an unfair barrier that for too long stood in the way of same-sex families being able to travel as a family to the United States."
Because of this, the embassy said it wants to educate gay Filipinos about new visa opportunities.
"Filipinos in same-sex relationships with Americans are encouraged to view the Visas section of the
Embassy website
for more information," it said.
— Howie Severino /JDS/AGM/LBG, GMA News