A day of music, film, and play at Cinemajam 2013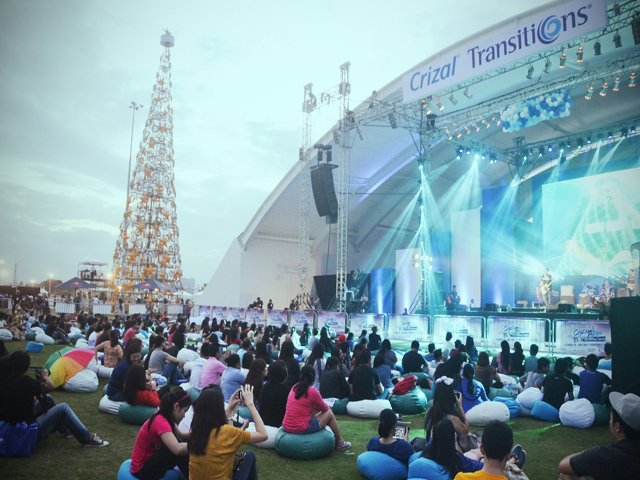 Itchyworms performs for a large crowd outdoors at the first Cinemajam last November 30.
A new promising music festival has just concluded its first year in Manila.
Made possible by Crizal Transitions, Cinemajam is the very first outdoor music and movie festival in the country.
The event, which was held on November 30 at the Circuit Event Grounds in Makati City, added some essential elements to the music festival patchwork: movies, good, food, and activities like kite-flying and basketball.
The activities got underway as band GraceNote warmed up the crowd. Scattered over the rest of the two-hectare open-air venue, food trucks were cooking, skaters were doing their tricks at the skate park, and kites were flying.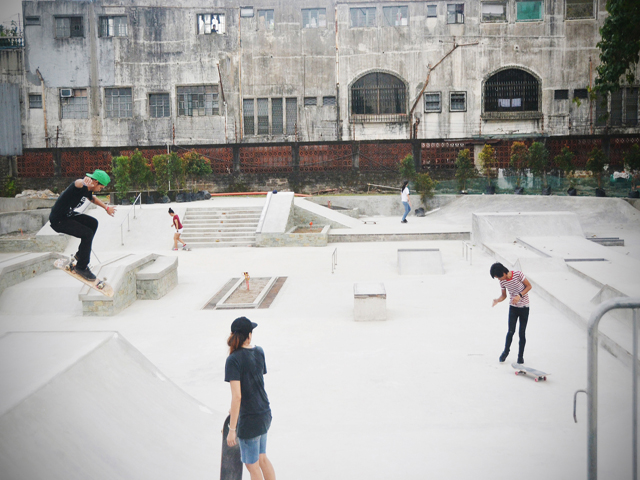 Jamming and watching movies were not the only thing you could do at Cinemajam. Bungee-jumping, kite-flying, and skating were also options.
"We are very proud that we are the first to introduce this type of event in the Philippines," said Jinky Navo, marketing manager of Essilor Philippines, the exclusive distributor of Crizal Transitions.
The day-to-night outdoor event created "a day for the workaholics to just chill and relax via an exciting afternoon fair that transitions to a sunset chill concert, to a movie double feature, and finally, a hip after party concert," she added.
Other activities included rock climbing, bungee jumping, basketball, soccer, and wall climbing. There was also free vision screening at the Crizal Transitions booth, where festival-goers could learn about Crizal's photochromic lenses, which can adapt to changing light conditions and endure resistance to smudges, scratches, dust, and water.
The space for the audience was divided into two areas: one before the stage dotted bean bags (not exactly a traditional setup for rock concerts, but undeniably comfy for watching movies), and another on rows of chairs. Others who preferred to bring their own mats, banigs, and sarongs loosened up on different spots throughout the field.
Moonstar88 played next, delighting the crowd with hits like "Migraine" and "Gilid." Itchyworms followed, playing hits like "Ayokong Tumanda," "Gusto ko Lamang sa Buhay," and "After All This Time," until sundown.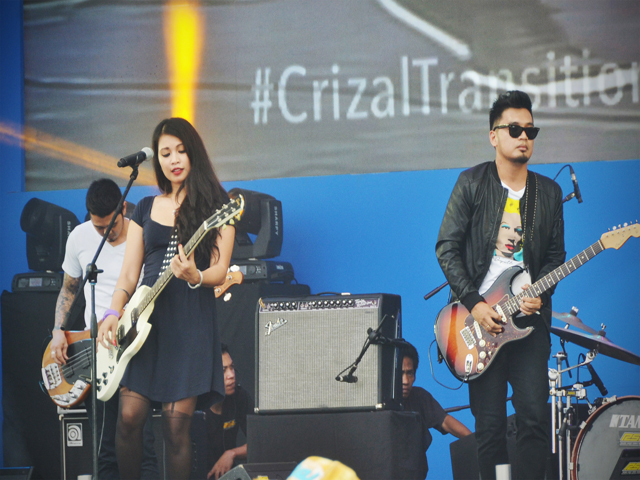 Moonstar 88 rockin' it at Cinemajam 2013.
"The bands and the movies were chosen on the basis of Cinemajam's theme this year, that is, 'seeing life in a bright light'. With all the negativity and stress our country is experiencing right now, we all need a break and just relax, enjoy a day off with our loved ones," said Navo.
Aimed to highlight the theme, feel-good film "Love Actually" (which is very apt for the Christmas season) and mystery thriller "Limitless" were also played after sundown.
Rock group Callalily played next, followed by headliner Bamboo, then an hour-long set by DJ Ace Ramos to cap off the night.
Those who have attended other big festivals might have noticed that there were no alcoholic beverages served during the event. Navo explained that this was intentional, as they felt that a "high" can already be achieved "just by enjoying the company of the people we love, with the right music, a feel good movie at the perfect weather."
It was a night of partying, but Cinemajam also promised to give back. Using part of the ticket sales, Essilor, through World Vision, will give a one-year sponsorship of 50 children affected by typhoon Yolanda.
Navo added that the plan is to hold the festival on a regular basis. "The challenge now is how to level it up when we do it again."
The event has a lot of potential. It was well-organized, and it looked like both performers and attendees had a blast. If they kept going at this rate, and if perhaps more bands and movies were added, it could turn out into something way bigger—a festival that a lot of people will keep looking forward to every year. —
VC, GMA News