Zambo Sur town mayor shot dead at NAIA Terminal 3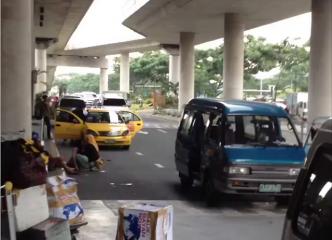 Airport scene after killing of mayor. A woman in yellow veil tries to help an unidentified victim who was shot at Bay 1 of the NAIA Terminal 3 arrival area on Friday, December 20. Mayor Ukol Talumpa of Labangan town in Zamboanga del Sur, his wife, and two others were shot dead by the assassins while four were wounded. Fernand Imperial
(Updated 6:30 p.m.)
A municipal mayor from Zamboanga del Sur and three others were shot dead before noon Friday at the Ninoy Aquino International Airport terminal 3, said Jose Angel Honrado, general manager of the Manila International Airport Authority (MIAA), at a press conference.
Mayor Ukol Talumpa of Labangan, Zamboanga del Sur was declared dead on arrival at the Philippine Air Force General Hospital, said Honrado.
Honrado said four people were also injured in the incident but a later report on dzBB said five were hurt and were initially brought to the PAF General Hospital and eventually transferred to the East Avenue Medical Center,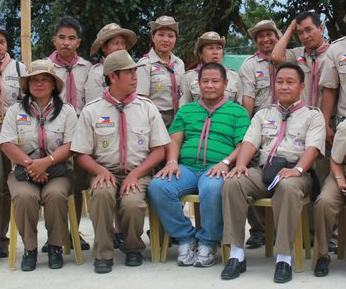 Mayor Ukol Talumpa (wearing green shirt) in this file photo posted on his Facebook page.
He added that the mayor's family and security escorts were among the victims, but it was not clear if they were among the fatalities or the injured ones.
In a report on GMA News TV's "Balitanghali," Jun Veneracion quoted Honrado as saying that
among those killed was Talumpa's wife, Lea. The two other fatalities were Salipudin Talumpa and Phil Thomas Lirasan, a one-year-and-a-half-old child.
Honrado said Mayor Talumpa had just arrived at the airport from Zamboanga City with his family when the incident happened at 11:15 a.m. The gunman reportedly waited for the mayor at the loading bay just outside the airport building.
Talumpa's bodyguard were not able to retaliate as they were yet to claim their guns which were turned over to security officers when they boarded the plane.
After shooting the mayor, the gunman ran to his accomplice and both of them sped away on a motorcycle.
A dzBB report said the suspects were wearing police uniforms.
In a report on "Balita Pilipinas," Veneracion said the assailant used a .45 caliber pistol. A magazine of the gun was left at the crime scene.
Amateur video shot by witness Fernand Imperial shortly after the shooting shows unidentified bodies lying on the street and sidewalk in front of the terminal, with companions seemingly still too shocked to call for help. The mayor's group appeared to be waiting for their ride when they were attacked.
Police officers tried to run after the suspects but failed to catch up with them, said Honrado.
At least 17 slugs were recovered in the crime scene, a report on radio dzBB said.
Honrado said they will cooperate with the police in the investigation of the incident even as he asked the witnesses to come forward.
No closed-circuit television (CCTV) camera was installed at the loading bay where the incident happened, according to airport security official Corporal Honorio Carbiño.
Palace condemns shooting incident
For its part, Malacañang said it condemns what it called a "blatant act of violence" that has killed an innocent bystander and imperiled the safety of citizens in the airport."
"The government will adopt necessary measures to ensure the citizens' safety especially during this holiday season," Presidential
Communications Operations Office head Herminio Coloma told reporters in a text message to reporters.
Previous attacks
Talumpa was the apparent target of
a previous assassination attempt
in September 2012, a grenade attack in Pagadian City. At the time, Talumpa was Labangan vice mayor. He and his wife survived the attack, but his security officer was hurt.
In 2010,
Talumpa was wounded along with his nephew Alimodin Silad after a shooting
incident in Manila. They were leaving a building in downtown Manila in a car when they were shot.
Friday's incident took place during the peak Christmas travel season, when thousands of Filipinos go home for the holidays.
It was not immediately known how the gunmen were able to sneak past airport security, which checks all vehicles entering the airport premises. —
reported by Amita O. Legaspi, Andreo Calonzo, Amanda Fernandez, Xianne Arcangel, and Kimberly Jane Tan/RSJ/HS/YA/KBK/LBG, GMA News