De Lima orders NBI to probe slay of Zambo Sur mayor, 3 others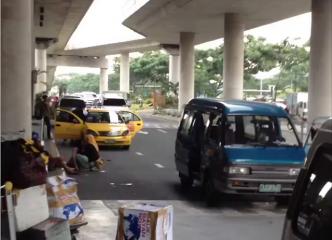 Airport scene after killing of mayor. A woman in yellow veil tries to help an unidentified victim who was shot at Bay 1 of the NAIA Terminal 3 arrival area on Friday, December 20. Mayor Ukol Talumpa of Labangan town in Zamboanga del Sur, his wife, and two others were shot dead by the assassins while four were wounded. Fernand Imperial
Justice Secretary Leila de Lima on Friday ordered the National Bureau of Investigation (NBI) to look into the killing of a Zamboanga del Sur mayor and three others at the Ninoy Aquino International Airport on Friday.
Mayor Ukol Talumpa of Labangan, Zamboanga del Sur, his wife Lea and two others were shot dead before noon Friday shortly after their arrival from Cebu.
Talumpa was declared dead on arrival at the Philippine Air Force General Hospital.
"I understand that was the third attempt on the life of the mayor and this time the culprits succeeded," De Lima told reporters.
De Lima said she has tasked the NBI National Capital Region through NBI officer-in-charge Medardo De Lemos to lead the investigation.
"It's extremely deplorable that even the wife, grandson and a staff were also killed," she said.
Jose Angel Honrado, general manager of the Manila International Airport Authority (MIAA), said Talumpa had just arrived at the airport from Cebu with his family when the incident happened at 11:15 a.m. The gunman reportedly waited for the mayor at the loading bay just outside the airport building.
Talumpa was the apparent target of a previous assassination attempt in September 2012, a grenade attack in Pagadian City. At the time, Talumpa was Labangan vice mayor. He and his wife survived the attack, but his security officer was hurt.
In 2010, Talumpa was wounded along with his nephew Alimodin Silad after a shooting incident in Manila. They were leaving a building in downtown Manila in a car when they were shot. —
Mark Merueñas/KBK, GMA News