Korean troops in PHL to help with Yolanda rehabilitation and recovery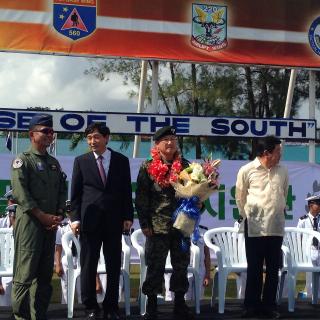 South Korean troops in PHL to help with Yolanda rehabilitation. Members of the South Korean Armed Forces in Cebu before heading to Leyte to help with rehabilitation and recovery operations. Embassy of the Republic of Korea
More than 60 years after the Korean War, some 500 members of the South Korean Armed Forces arrived in Cebu Friday to conduct rehabilitation and recovery operations in typhoon-ravaged Leyte.
"The deployment of the troops reflects the gratitude of the Korean people to the Filipinos who fought with them during the Korean War, and their optimism about the future of Tacloban," according to a press statement from the Embassy of the Republic of Korea in the Philippines.
"We hope that their work will bring the people of the two countries closer to each other," it added.
The Korean expeditionary unit, composed of medical and engineering personnel, will carry out its mission for up to a year.
It will prioritize recovery of public facilities like schools, hospitals, and government offices particularly in Tanauan and towns in the vicinity of Tacloban.
The Korean team, known as "Araw" or "Sun," will take temporary shelter in Palo, Leyte.
The Korean embassy said this is the first ever overseas deployment of Korean military personnel in the form of a state-sanctioned unilateral assistance.
Korea was among the first countries to respond to the needs of typhoon-affected residents with $25 million in cash and in kind.
A Korea Disaster Relief Team also conducted relief and recovery operations in Tacloban. Its medical team stayed long after many other foreign aid teams had left.
On Nov. 8, Typhoon Yolanda raked through the Visayas, flattening towns and cities and killing over 6,000 people.
Based on the
Foreign Aid Transparency Hub
(FaiTH), the total foreign aid pledged is now at P23.798 billion with P592.58 million total cash already received by the government.
The National Economic and Development Authority (NEDA) earlier said
rebuilding typhoon-hit areas will cost P361 billion
.
The figure includes P183.3 billion in housing and resettlement costs, P28.4 billion for rebuilding public infrastructure, P37.4 billion for financing education and health services, P18.7 billion for agriculture, P70.6 billion for industry and services, P4 billion for local government, and P18.4 billion for social protection.