YEAR-ENDER
:

Red Sox high note, doping bust a low for MLB in 2013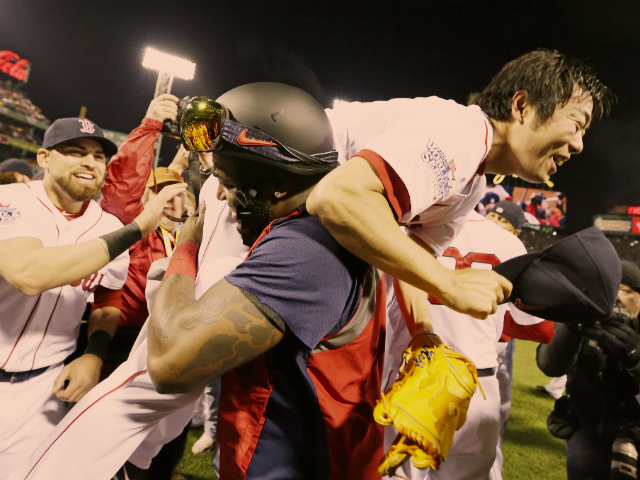 The Boston Red Sox brought another title to Beantown.
NEW YORK - Major League Baseball hit a high note with Boston's feel-good run from worst to first in a roller-coaster 2013 season that was brought low by the sport's biggest doping bust.
[Related: Boston Red Sox win World Series with Game 6 victory vs Cardinals]
The Red Sox bonded with their city under a rallying cry of 'Boston Strong' following the deadly bombings at the Boston Marathon and soared from last in the American League East in 2012 to World Series champions, riding the red-hot bat of slugger David "Big Papi" Ortiz.
Ortiz batted an amazing .688 with a pair of homers and six runs batted in to claim the Series' Most Valuable Player honors after a six-game triumph over the St. Louis Cardinals.
Contrasting with the elation in Beantown, where Fenway fans celebrated a Fall Classic clinching on the home field for the first time in 95 years, was the deflating downer of 14 players suspended by Major League Baseball for violating doping rules.
[Related: Former MVP Braun banned rest of season for doping]
Former National League MVP Ryan Braun was banned 65 games, while Nelson Cruz and Jhonny Peralta - key players on American League playoff teams - were among a dozen who accepted 50-game suspensions handed down by Commissioner Bud Selig.
[Related: A-Rod suspended through '14; 12 receive 50-game bans]
Alex Rodriguez, the biggest catch of MLB's probe into the now-shut Florida anti-aging clinic Biogenesis that dispensed performance-enhancing drugs, was hammered with a 211-game ban for the rest of 2013 and the entire 2014 season.
The Yankees third baseman and baseball's highest-paid player, however, returned to the field while challenging the stiff punishment that MLB said was tied to his efforts to obstruct the investigation.
Rodriguez's contributions on the field did not save the Yankees from missing the playoffs for the second time in 19 years.
The case still hovers over the game and awaits a ruling by baseball's arbitrator, with Rodriguez threatening court action pending the arbitrator's verdict.
Sparkling Sox
On the diamond, the Red Sox sparkled with a retooled roster that relied as much on character as skills.
After trading off some of their highest-paid players, the Olde Towne team prospered by adding less heralded replacements including Mike Napoli, Shane Victorino and Jonny Gomes, who began a beard-growing craze on the new-look squad.
Resurgences by Jon Lester and Clay Buchholz improved the starting rotation and another newcomer, Japan's Koji Uehara, rose to the rescue after a string of injuries to their closers and was nearly un-hittable at the back end of the bullpen.
Boston prevailed over the National League champion Cardinals, who returned to the World Series in their second season after losing premier slugger Albert Pujols to free agency.
St. Louis rode the arms of a slew of hard-throwing young pitchers, including closer Trevor Rosenthal and blossoming starter Michael Wacha, who was selected with the draft pick the Cards received as compensation for losing Pujols.
Wacha was a late-season revelation. After coming within one out of a no-hitter in his final start of the regular season, he took a no-hitter into the eighth inning of a must-win Division Series Game Four against Pittsburgh and won both his starts against the Dodgers in the NL Championship Series.
He won Game Two of the World Series before the fairy tale lost its happy ending with Wacha's loss in the deciding Game Six.
Two other National League rookies made a great impact.
Jose Fernandez, 21, of the Marlins won the NL Rookie of the Year Award after going 12-6 with a 2.19 earned run average, while fellow Cuban Yasiel Puig jolted the Los Angeles Dodgers back to life and on a torrid run that had them playoff bound.
The Dodgers won 37 of 45 games starting in late June, with the power-hitting and speedy Puig in dazzling form.
Wil Myers won AL rookie honors with 13 homers, 53 RBIs and a .293 average after a mid-season call-up by the Tampa Bay Rays.
Lovable Pirates
Another heart-warming plot line of 2013 was written by the Pittsburgh Pirates, who ended 21 years of frustration with a return to the playoffs.
[Related: Postseason return restores Pirates pride and passion]
Led by outfielder Andrew McCutchen, the NL MVP after posting 21 home runs, 84 RBIs, 27 steals and a .317 batting average, the Pirates (94-68) had their first winning record since 1992.
American League MVP honors went again to Detroit Tigers third baseman Miguel Cabrera, who won the 2012 award after leading the league in home runs, runs batted in and batting average to register the first Triple Crown in 45 years.
Cabrera nearly matched that sweep despite struggling the last month due to injury, and for a second year in a row outpolled worthy runner-up Mike Trout, who hit 27 homers, drove in 97, batted .323, stole 33 bases and turned 22 years of age.
Denying the Venezuelan in the Triple Crown categories was Baltimore's break-out slugger Chris Davis, who led the majors in home runs with 53 and RBIs with 138, one more than Cabrera.
Cabrera's teammate, Max Scherzer, won the AL Cy Young Award as top pitcher after going 21-3 with a 2.90 ERA.
Clayton Kershaw, 25, won his second NL Cy Young. The left-hander went 16-9 and led the league in ERA for the second year in a row with an impressive 1.83 mark.
Poised to join the top names was New York Mets pitcher Matt Harvey, who blazed his way to the starting assignment in the All-Star game on his Citi Field home mound and did the Mets proud with two scoreless innings.
But the season had an abrupt end for Harvey, 24, (9-5, 2.27), who was shut down in August with a torn ligament in his pitching elbow and could miss the 2014 campaign.
Mo's adieu
It was a wrenching setback for the Mets, who after years of struggle looked to be gathering themselves for a climb back into contention on the strength of their promising hurlers.
[Related: Rivera overcome with emotion in Yankees farewell]
Saying a permanent goodbye was MLB's greatest closer, Mariano Rivera of the Yankees, who turned the season into a going-away party.
The soft-spoken Panamanian, whose incredible consistency over 19 years with the Yanks carried him to a record 652 saves and a career ERA of 2.21 owed to his command of a late-darting cut fastball, retired at 43.
Rivera was saluted at every ball park and paid back the affection shown him by meeting with stadium workers at every last road series to thank them for the work they do.
- Reuters