Falling concrete from old building kills 2 in Manila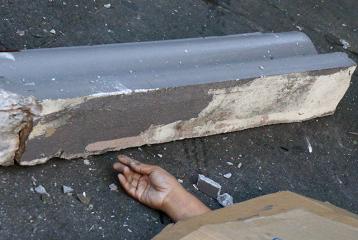 Paco freak accident kills 2 vendors. One of two vendors struck by a falling brick molding from a building ledge in Paco, Manila lies dead on Tuesday, December 31. The other victim who was rushed to the hospital was pronounced dead on arrival. Danny Pata
Two female vendors will not live to see the New Year after they were fatally hit by a falling concrete from an old building in Manila's Paco district Tuesday morning.
One of the vendors was killed on the spot while the other died after being rushed to the Ospital ng Maynila, radio dzBB's Mao dela Cruz reported.
A report by Victoria Tulad on GMA News TV's "Balitanghali" identified the victims as Simplicia Sister and Delia Babon.
The report said Delia, a vegetable vendor, was on her way home and had just emerged from a fastfood outlet when she was hit and instantly killed by falling concrete from RAQ Building's fifth floor. Simplicia, on the other hand, was hit while manning the stall where she sold clothes.
The report further said both the victims, who sustained injuries in the head, had six children.
Following the accident, the fastfood outlet was temporarily closed while authorities cordoned off the area, the dzBB report said. —
KBK, GMA News