PBA: Cabagnot tallies triple-double as Petron pummels GlobalPort in Fajardo's return

June Mar Fajardo returned after a three-game absence to lift the Petron Blaze Boosters over GlobalPort Batang Pier, 98-87, in the PLDT MyDSL 2014 PBA Philippine Cup on Friday at the SMART-Araneta Coliseum.
Arwind Santos led the way with 25 points and 10 rebounds, as six Boosters scored in double figures. Marcio Lassiter and Chris Lutz had 16 and 13 points respectively, and combined for nine rebounds and 10 assists. Fajardo had 12 points, six rebounds and two blocks, while Doug Kramer had 11 points and eight rebounds.
Alex Cabagnot notched a triple-double with 10 points, 11 rebounds, 13 assists and two steals.
The Boosters went on an 11-0 run during a four-minute stretch in the fourth, with Fajardo adding two baskets to fend off the makings of a Batang Pier comeback.
"We had to grind it out, especially in the second half. I think the guys did a terrific defensive job, but I think June Mar Fajardo gave us a different look. We just played better with him on the floor," said Petron head coach Gee Abanilla.
"June Mar had the go-signal and I just had to ask him how he feels," Abanilla added, explaining that he needed to check Fajardo's competitiveness to make sure he was comfortable on the floor. Abanilla revealed that the 2012 first overall pick felt some slight pain yesterday, but was much better tonight, and will benefit from a team day-off tomorrow.
Petron has won just two of their last five games, clinging on to the second seed with a 9-3 card. Meanwhile, the Batang Pier have lost their fifth straight, 4-8, and tie Alaska at eighth place.
Petron scuttled GlobalPort during their first meeting, 97-87.
In the first quarter, Petron's midrange game lifted them to a 16-10 lead, getting contributions from Chris Lutz and Alex Cabagnot. With under four minutes to play, June Mar Fajardo checked in to stem a GlobalPort streak sustained by their four rookies coming off the bench. Instead, the Boosters surrendered a 12-4 run, including six from Justin Chua, to trail 22-20 after the first period.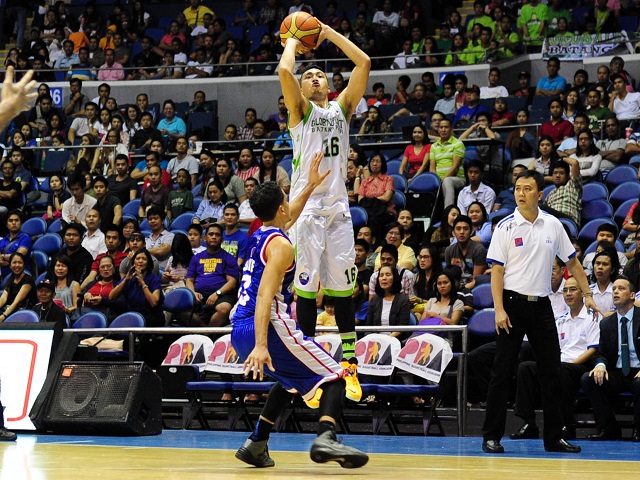 Jaypee Belencion lines it up as Petron's Marcio Lassiter recovered late on defense.
KC Cruz
Both teams exchanged baskets in a defense-first game in the second quarter, as Doug Kramer spun in the post to give his team a 31-29 edge. Petron blinked first as they had no answer for Jaypee Belencion. With two triples and numerous hustle plays, Belencion was the motor that powered a 22-8 swing to end the quarter. Marcio Lassiter scored Petron's last eight points and was the lone bright spot for the Boosters, who trailed 51-39 after two.
Fajardo started the second half after sitting out the entire second period, and immediately impacted the Boosters' play. They forced GlobalPort into a shot clock violation on their first possession, and continued to control the defensive end. Petron went on a 17-4 swing, capped by seven straight points from Arwind Santos, to claim a 56-55 lead midway through the quarter.
Batang Pier put up a better fight as Sol Mercado and Justin Chua forged an 11-6 run, but it was short-lived as the Boosters took advantage of turnovers and fouls down the stretch to tie the game at 68-all.
Belencion carried GlobalPort through the fourth quarter, scoring nine points to offset balance scoring from Petron. The Boosters gave themselves some cushion as a couple of elbow jumpers from Santos sandwiched a Chris Lutz and-one, and Lutz later drained charities after he was fouled in transition, 88-80, with 3:29 left.
With two minutes to play, Fajardo put back his own miss to make it a double-digit game. Mercado quickly answered with a layup on the other end, GlobalPort's first basket in the last four minutes. Fajardo converted another lay-in, which after another GlobalPort miss, sealed the win for the Boosters.
Petron shot 36-of-90 (40 percent) from the floor, while GlobalPort went 33-of-80 (41.3 percent). The Boosters dominated the hustle categories with a 20-15 margin in fast break points and an 11-0 gap in second-chance points.
Jaypee Belencion led GlobalPort with 21 points. Sol Mercado had 15 points, five rebounds and five assists. Kelly Nabong, who stepped up for an injured Jay Washington, tallied 15 points, 11 rebounds and two blocks.
- RAF, GMA News
The scores:
PETRON 98 - Santos 25, Lassiter 16, Lutz 13, Fajardo 12, Kramer 11, Cabagnot 10, Tubid 7, Deutchman 2, Ross 2, Lanete 0
GLOBALPORT 87 - Belencion 21, Mercado 16, Nabong 15, Chua 9, Salvador 8, Garcia 8, Romeo 4, Menk 2, Salva 2, Najorda 1, Hayes 1, Washington 0
Quarter scoring: 20-22, 39-51, 68-68, 98-87