Movie review: Jackie Chan still delivers in fun, disposable 'Police Story 2014'
I can't remember what the last "Police Story" was about. All I could remember was this scene where Jackie Chan was running while explosions went off behind him and he was pushing a cart full of injured fellow officers. It wanted to be serious but it was absurd. I think the triumph of "Police Story 2014" (actually "Police Story 2013") is that it is serious AND absurd at the same time. Which is to say that it's a lot of excitement and fun, while not necessarily feeling important in any way.
The seriousness of the film comes from how seriously the characters treat what is happening around them. They don't realize how wonderfully melodramatic and absurd it all is. The movie plays on all-too-familiar stereotypes, predictable twists, and convoluted explanations. If you don't demand that it make sense and take it all as a fun excuse to stage some exciting action sequences, then you can enjoy the two hours the film runs.
We open with Chan playing a tortured cop who never spent enough time with his family. He goes to a snazzy bar to meet his estranged daughter. He's being introduced to his daughter's boyfriend, who owns the bar. Now you should start worrying because the bar is a converted factory and it's got cages and chains and all kinds of weird stuff that a father probably would not like to imagine his daughter in the presence of. And if our suspicions weren't already piqued, the moment when we meet Wu, the boyfriend/bar owner of WuBar, yeah, he gets some food and feeds it to piranhas. You know there's something wrong when a dude has piranhas.
Quickly enough things escalate from a really loud party into a hostage-taking. But it isn't about the money. Of course it isn't. There's an elaborate plot built around something that happened five years ago. The thing is the revelation isn't as big as it's built up to be. In any case, a group of people are brought together in the bar and a siege begins. The cops outside have itchy trigger fingers and they want to barge in. Chan's trying to keep things cool, trying to talk people down because as a character, he believes that every single life is important.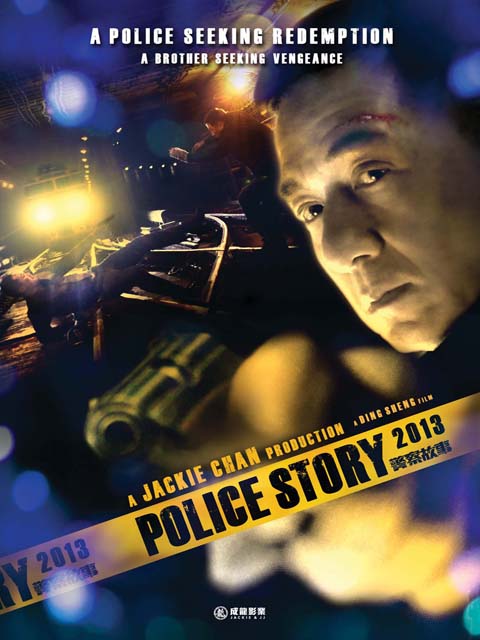 There isn't much to define the character that Jackie Chan is playing. What we get throughout this film are flashbacks which sometimes aren't connected to the main storyline, but provide background on the characters. It's not a bad technique for injecting exciting action sequences into the film that take place outside of the narrative frame. It seemed that what could be done within the hostage situation in the bar was limited anyway. There wasn't a large enough space for hide and seek like "Die Hard" and there weren't that many bad guys to deal with.
What the movie wants to be is a character drama with action sequences. But the characters are so over the top and unbelievable that it really comes off as this play on action movies. There are direct references to "Lethal Weapon" and "Die Hard" and a handful of other movies.
And the motivations of the main villain are so laughably unrealistic but melodramatic that it seems they are perfect for a film like this. It's all a big revenge plot, but when you take the time to stop and think about the kind of elaborate planning that the big bad has done to attempt to execute his vengeance, then you'll admire that this has a Bond-villain-like bombast to it.
But then we don't go out to a Jackie Chan movie to see deep developments of character dramas. We go out there to see some exciting action sequences. I know that Chan's been in the business for a long time, but he's still impressive to watch. This isn't "Expendables"-level admiration, this is honest to goodness work that this guy is doing day in and day out, year in and year out. Our knowledge of him and his natural onscreen charisma help to make up the holes in his character. The character is a walking cliche, but with Chan filling him in, we can at certain points sympathize with him. A particularly affecting sequence is when he has to square off against a much younger and much more physically imposing opponent. You're sitting there waiting him to bust out moves like he used to, and instead he is treated with extreme, almost heartbreaking, brutality.
What's interesting to observe is the vulnerability that Chan brings to his character. Sure, at some points in the movie he's as much a superhero as John McClane is. But we also see the character struggle and falter. And though the villains and plot developments are either cliche or unbelievable, the characters believe thema nd we come to feel that they are important.
"Police Story 2014" isn't a film that you need to go see. It's disposable entertainment, fun for the time that you're watching, but not really something that will stick with you. Still, if you're looking for a decent action flick to spend a couple of hours with, this could be fun.
— BM, GMA News
"Police Story 2014" is now showing in cinemas.

The views expressed in this review are the author's own.