Marquez changes tune, now willing to fight Pacquiao if he wins against Bradley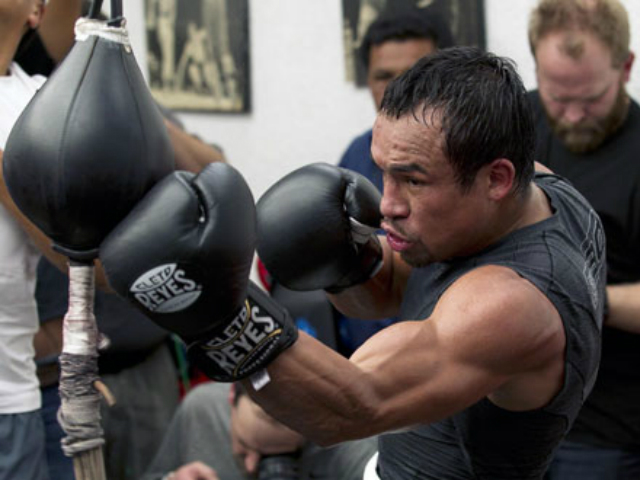 Juan Manuel Marquez will target the winner of Pacquiao-Bradley II. Rafael Soto-Zanfer Promotions
Top Rank Promotions boss Bob Arum took Juan Manuel Marquez' name off the list of possible Manny Pacquiao opponents for his April fight early in the process. Arum knew that Marquez was not interested, as he had already scored a knockout victory over his Filipino nemesis back in 2012.
However, according to Arum, Marquez is changing his tune as the Mexican fighter is now willing to face Pacquiao for a fifth time, but under one condition: Pacquiao needs to defeat Timothy Bradley in their rematch and claim the WBO welterweight title.
"Marquez really wants only one thing before he retires," Arum told
Chris Robinson of the website Hustle Boss
. "He wants to win that title. And he has indicated to us that he would be very available to fight the winner of Pacquiao and Bradley in the fall."
The proud Mexican warrior wants another shot at the welterweight title as he yearns to retire as a five-division world champion. Throughout his career, Marquez has won titles in the featherweight, super featherweight, lightweight, and light welterweight divisions. Currently, he is joined by Erik Morales and Jorge Arce as Mexico's four-division world champions, but winning one more title at welterweight will put him on an elite list, alongside greats such as Sugar Ray Leonard, Thomas Hearns, Oscar de la Hoya, Floyd Mayweather, and his nemesis Pacquiao.
"That is correct, so he's obviously changed his tune," Arum stated. "He doesn't want to face Pacquiao again if Pacquiao is not successful with Bradley. But if Pacquiao is successful with Bradley, he has stated that he wants to face Pacquiao."
Marquez already has two unsuccessful shots at the WBO welterweight title. He lost via majority decision to Pacquiao in their third meeting and via split decision to Bradley just last year.
Arum also stated that Marquez is not inclined to fight light welterweight champion Ruslan Provodnikov of Russia. "There seems no reason for him to fight Provodnikov," Arum said, alluding to the fact that the Russian holds a belt that Marquez has no interest in.
For months now, the Russian has openly challenged Marquez to a fight, but at his age, the Mexican counter-puncher knows that there is nothing to gain and so much to lose by fighting a young lion such as Provodnikov.
If he so inclined, Marquez could get a tune-up match, possibly in Mexico, to keep himself in shape for a possible showdown with the winner of Pacquiao-Bradley 2.
- AMD, GMA News
TAGGED IN
juanmanuelmarquez bobarum mannypacquiao timothybradleyjr

#gomanny Tweets