Security agency fined for failing to report Vhong Navarro mauling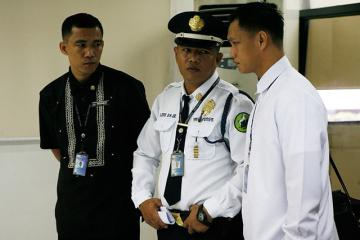 Condo guards file report on Vhong Navarro mauling . Three security guards who were on duty at the Forbeswood Heights condominium the night actor Vhong Navarro was mauled file their incident report at the Supervisory Office for Security and Investigation Agencies (SOSIA) of the PNP in Camp Crame in Quezon City on Monday. The United Megaforce Security Agency Inc. is facing a P5,000 fine for not filing a report to the SOSIA within 24 hours of the incident. Asti Flores
The Philippine National Police has fined the security agency of Forbeswood Heights condominium for failing to report the mauling of actor Vhong Navarro within 24 hours, the PNP Supervisory Office for Security and Investigation Agencies (SOSIA) said.
Megaforce Security Services, the agency handling security at the Taguig City condominium building, will have to pay a fine of P5,000 for the lapse in protocol.
"We are wondering what they did not do that (report the crime to the police). In that case, we will be penalizing them for that failure," Police Chief Inspector Sonny Celedio, PNP-SOSIA executive officer said.
Police are still investigating the agency but have found the following initial violations: Failure to report the incident to the police, non-cooperation with police investigators, and failure to observe protocols in the conduct of investigation of a crime.
Celedio said Megaforce Security Services may yet be made to pay stiffer fines while its security guards may have their permits revoked.
"We want to find out if the involved security personnel, in fact, will be needing additional training," Celedio said, adding results of the investigation into the agency may be released by the end of the week. — JDS, GMA News