'Powerhouse': Moving houses
Powerhouse
Moving Houses
Date of Airing: February 12, 2014
Wednesday after Saksi, GMA-7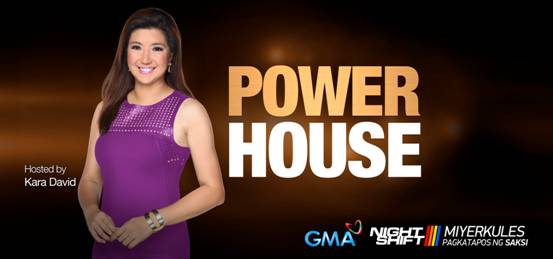 After a successful three-year run in GMA News TV, where it featured the houses and lives of inspiring Filipinos, a new door opens for Powerhouse on GMA 7.
Launched on March 1, 2011, Powerhouse has already featured the abodes and stories of more than a hundred personalities including the country's most powerful politicians, brightest showbiz stars, multi-awarded athletes, and wealthy entrepreneurs.
As we marvel at the creative and artistic interiors of their living quarters, the guests were also keen in sharing with us the secrets behind their success and also the valuable lessons that lead them to where they are now.
Journalist and George Forster Peabody Award Winner Kara David stays at the helm of Powerhouse. As our guests open their front doors to Ms. David, get ready for visual and architecture euphoria as well as revelations to questions that only Ms. David can inquire.
For its first offering in the Night Shift block, showbiz personality Heart Evangelista opens the door of her newest house in Quezon City. Located inside the same exclusive subdivision as her beau Senator Chiz Escudero, Heart built a beautiful and cozy abode for herself. Her living room adjoins her dining area which is adorned with her favorite books and photos of her closest friends. Her small yet much used kitchen lies adjacent her dining area. She often cooks for her friends whenever they come to visit. Her walk-in closet is a wonder itself. It was designed by Sen. Escudero as a housewarming gift.
In her interview with Kara David, Heart reveals the biggest changes in her life after the public falling out with her parents, her regrets, and the biggest challenges in her independent life. Mature in her decisions and comfortable in her own skin, Heart bravely answers all the difficult questions including her relationship with the Senator.
Powerhouse makes its debut on GMA-7 starting February 12, Wednesday, after Saksi.