Ruby Tuason to implicate more personalities in gov't fund scams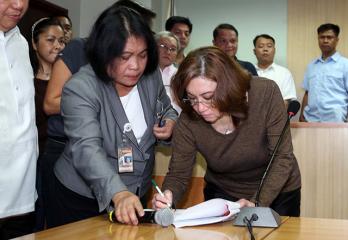 Ruby Tuason submits affidavit to Ombudsman. Ruby Tuason, former Erap aide and one of those implicated in the alleged pork barrel scam, signs her affidavit at the Office of the Ombudsman in Quezon City on Friday, February 7, shortly after arriving from San Francisco. A witness in the supposed scam, Tuason has been placed under government protection. GMA News
Potential state witness Ruby Tuason will implicate more personalities in the alleged anomalies she is being linked to, including the P10-billion pork barrel scam, her lawyer said Friday.
Lawyer Dennis Manalo, Tuason's counsel, said his client corroborated "material points" of testimonies given by Benhur Luy and other whistleblowers in the pork barrel scam.
The material points include "essential personalities" identified by the whistleblowers, Manalo added. He, however, refused to identify these personalities pending the investigation being conducted by the Office of the Ombudsman.
"Lahat ho ng kanyang nakausap, lahat ng kanyang naka-deal, lahat ng kanyang nakasama tungkol po sa mga pondong ito ng pamahalaan ay nakasaad sa kanyang sworn statement," Manalo said at a press conference at the Office of the Ombudsman.
Tuason faced Ombudsman Conchita Carpio Morales on Friday morning to reaffirm her affidavit, which she earlier executed in the United States.
Manalo further said that Tuason's affidavit will also implicate other personalities not previously identified by the whistleblowers.
"She mentioned everything that she knows and that includes names of people that she has transacted with, and just to give a complete answer, yes. There will be other names," he said.
'Close friends'
Tuason is facing plunder charges before the Ombudsman for her alleged involvement in the Priority Development Assistance Fund (PDAF) or pork barrel scam and the alleged misuse of the P900-million Malampaya Fund.
In the pork barrel complaint, Tuason was identified as a "representative" of Senate Minority Leader Juan Ponce Enrile or Sen. Jinggoy Estrada.
In a separate interview, Tuason said she considered turning herself over to government custody as a "sacrifice," since she has to implicate individuals she had close ties with.
"It was very big sacrifice on my part because these are really close friends of mine, but I needed to do this," she told reporters after reaffirming her affidavit.
She added that she decided to surface because she "wanted the truth to set me free." She also said that her affidavit covers "everything" from the pork barrel and Malampaya fund anomalies.
After Tuason reaffirmed her affidavit, Ombudsman Morales told the potential state witness, "If you are telling the truth, you have nothing to fear."
Morales also said Tuason's application to become a state witness will be given "fair assessment" by the Office of the Ombudsman. —
KBK, GMA News