David Beckham 'humbled' in visit to Yolanda victims in Tacloban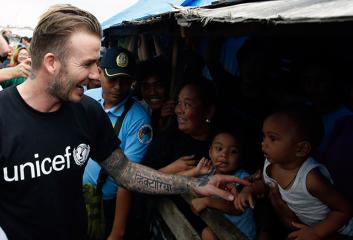 David Beckham visits Yolanda victims in Tacloban. Former England soccer captain David Beckham greets victims of Typhoon Yolanda at an evacuation center in Tacloban City on Thursday, February 13. Local officials said Beckham is one of the biggest donors to Yolanda-devastated areas in the Visayas. Reuters/Erik De Castro
Former England soccer captain David Beckham visited the central Philippines on Thursday to meet with the survivors of a powerful typhoon.
Beckham went to an evacuation shelter in Tacloban City, one of the heavily hit areas still recovering from the aftermath from typhoon Yolanda's (Haiyan) devastation.
"I was humbled to visit Tacloban and see how people are still so full of spirit despite the devastation they have suffered. Close to 6 million children are affected and many have lost loved ones,"
UNICEF UK quoted Beckham as saying
.
"As a UNICEF Goodwill Ambassador, seeing how children are being given a sense of normality amidst the rubble of their communities has been amazing. I want to show people around the world how their generous donations have had an enormous impact on children and their families and how thankful people here are for their kindness," Beckham also said.
Hundreds of evacuees came to see the soccer icon as he greeted the survivors and spent time with children inside an evacuation tent managed by the United Nations Children's Fund (UNICEF).
Typhoon survivor Lilibeth Sacramento was happy her two children who were fans of the soccer captain were able to see their idol up close.
"At least everybody's spirits were uplifted despite being hit by typhoon Yolanda (Haiyan), and we get to see them up close. That is a big thing," she said.
It was his second visit to the Philippines after an exhibition match with the Philippine national soccer team in 2011.
Beckham and his wife, Victoria, had raised funds to aid the typhoon victims by donating their clothes for auction.
The typhoon, one of the strongest typhoon recorded to ever hit land, devastated the central Philippines on November 8, killing at least 6,000 people and displacing millions.
— with Reuters/ELR, GMA News