Pag-ibig Online: Finding love at 48
I am under verbal contract to write a book titled, "How to be a Happy and Holy Single" for a Christian publishing company. As a single female missionary I had carved out what I felt was a really good life: plenty of opportunities to travel, lots of opportunities to meet people and pour out God's love over them—many chances to do things that had an impact far beyond my lifetime.
I was able to do all these while staying deeply connected with ministry partners who supported me financially, leaders who kept me grounded, and friends who were committed to speak truth into my life and pray with me whenever my spirit needed replenishing. Goodness, I even occasionally gave a talk titled "Praise the Lord, I'm Single!" and a published article called "Singles of the Philippines, Unite!"
But in 2012, while I was on sabbatical leave in the States, the oddest of things happened: I developed a love life!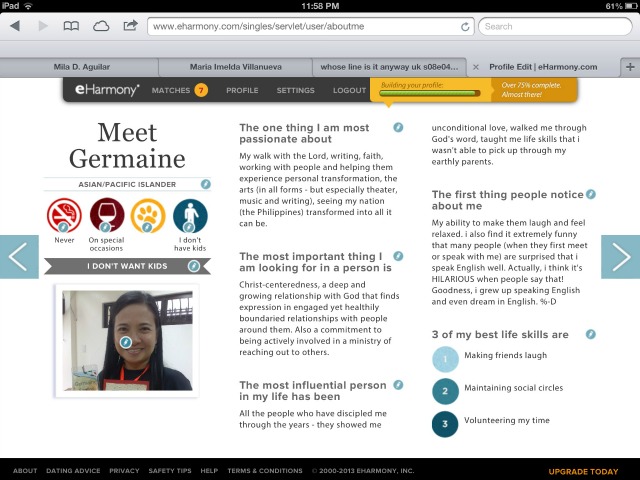 Germaine's eHarmony profile, which her friend Vivi set up for her and constantly reminded her to check in and update. All photos courtesy of Germaine Santos Cochran
I was staying with Vivi, an old college friend of mine who asked me in a rather exasperated (but loving) tone, "Wala ka pa ring asawa? Ano ba 'yan! Are you open to dating online?" Thinking nothing of it since I got these kinds of comments all the time, I said "Sure!" and then went to bed.
The next day I woke up to the following words, "O, in-enrol na kita. Start filling it up." It took me two days to answer that online questionnaire that had hundreds of points in it. But, within less than a month, I was matched with Keith – my now handsome, holy, hunk of a husband. But I'm getting ahead of myself. Let me back up a bit…
Why lots of guys date online: A possible theory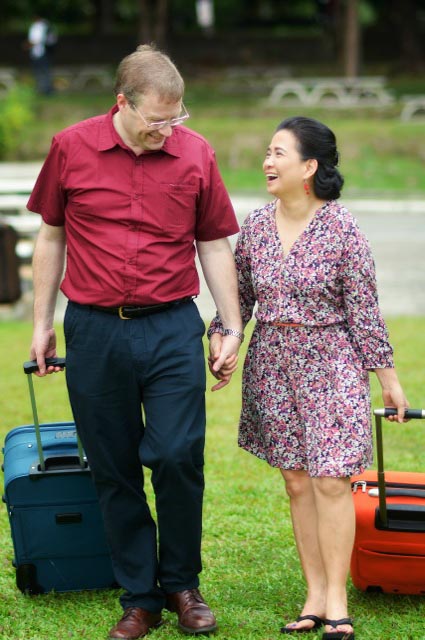 It is fortunate that both Keith and Germaine are deeply interested in the same things, such as Christianity. It seems that they both like to travel, too.
Through the years, I saw several wonderful female friends of mine get married to really great guys whom they met online. I was puzzled by this at that time because I'd always operated under the assumption, "If you wait, he will come." So, taking an active role in seeking a lifetime partner and putting myself out there felt quite odd.
But by the time 2012 came along, I had seen enough good examples of successful internet romances for my resistance to ease up.
In fact, by then I had developed a sort of theory. There are lots of good men on dating websites because of two reasons.
One, lots of good guys want to find a good life partner, but they do not want to buy into the whole dating game in the States—which often has the expectation of sex on the third date.
Two, dating online grants a fair chance to men who are not as "slick" as other guys. For example, the typical Alpha Male could easily make himself stand out in a crowd. But geeky introverts have a more challenging time in that area. And yet there are many good, quiet guys out there who just need that break, that chance to impress a girl and connect with her.
A third possible angle to this theory of mine on internet dating is that you're more likely to (virtually) meet a guy who is genuinely interested in you and not only the physical aspect of you as a woman. I mean, given that you communicate online, they can't even hold your hand! Of course, there are perverts online—but I found that they were much easier to detect by the nature of their postings, so I was able to steer clear of them. Phew!
Also, the fact that Vivi was spending $50 dollars (the equivalent of about P2,000) a month for my eHarmony membership was an added incentive for me to do my part in making the most of the whole enterprise. Vivi encouraged me to check the site every day and to take the initiative in communicating with any potential matches in order to expedite the process of finding a good match for me. And I did find several good matches—a retired businessman who went to the Philippines every April to do missions, a widowed Exxon engineer who went thrice a year for missions at an orphanage in Mexico, a guy who made wooden horses and sold them online. Email exchanges with them were interesting, but things never seemed to "heat up" to a meaningful level, and I was committed to not forcing anything to happen.
Connecting with Keith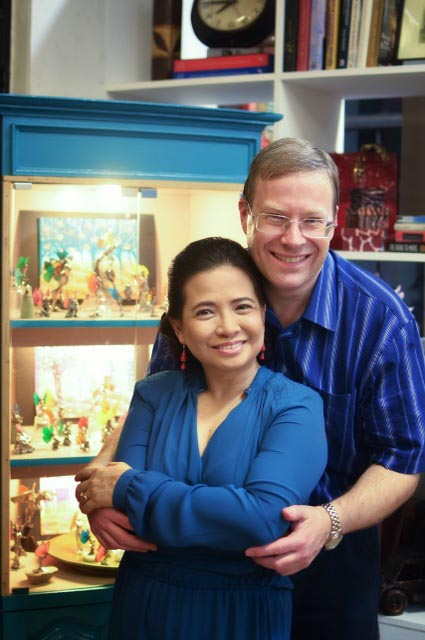 During their first phone call, they talked for hours about everything.
When I first saw Keith's profile on eHarmony I thought to myself, "Oh, but he's only 49. That's too young for me." I said that because I'd always been drawn to much older men, like men in their 60s. (I know, I'm strange that way.) But I kept reading when I saw that he had a PhD, and that he read about current trends in Christianity around the world. Right away my brain went DING DING DING, this might be a good one! So, I gave it a shot and sent off a quick email to him "initiating contact."
Meanwhile, Keith said his first impression upon seeing my profile was, "She's cute. I have to investigate." He said that when he got the email I sent him, he didn't waste any time and replied right away. I have to credit my Pinoy-Puti couple friends ,who helped me pick the pictures. One couple even took me out on a photoshoot at Monterey Beach in California. Apparently, pictures rule on the Web!
Our first phone call lasted more than an hour. I remember how excited and nervous I was about it, as I really enjoyed our email exchanges. He was obviously smart and I had always been drawn to nerdy guys. We talked about our lives, our family backgrounds, our work, our feelings and opinions about various spiritual subjects—including art and spirituality and movies and books and history and…well, you get the idea. I said goodbye and thanked him for a very good talk and, as I recall, he said our talk was the highlight of his week.
Pretty soon, his weekly Thursday phone calls became something I really looked forward to. But my sabbatical leave was ending and I had to return to the Philippines soon. I was beginning to wonder if all these wonderful phone calls were going anywhere. And at this point, I was still emailing with those three other eHarmony matches.
Fireworks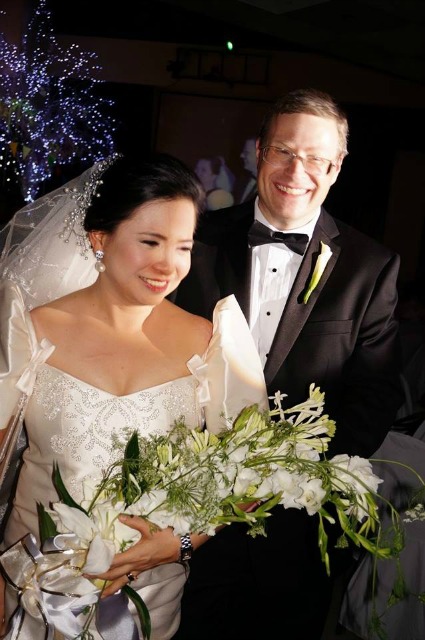 The Cochrans at their wedding.
Thankfully, Keith took things up a level when he asked me if he could come to the Philippines so that he could keep getting to know me more. And thanks to Skype and FaceTime, our talks online became even more frequent and (with apologies to the musical) I grew accustomed to his face, his consistency, his easy manner, his strength. By the time he arrived in the Philippines in December of 2012, the ground of my heart had been softened.
The night I picked him up at the airport, there were fireworks—literally, thanks to Resorts World. A friend commented, "Ate, God's will na ito!"
True enough, by December 19, we became Us.
After Keith returned to the States, he and I began discussing the book "The Sacred Search" by Gary Thomas in earnest. The questions there helped us determine that we wanted to keep moving forward. The emotional momentum was building and it felt like my heart was buffering to a point where the words "I love you" were finally going to be said.
But moving forward meant spending an extended amount of time with him in his world. For five weeks in April and May of 2013, as I did ordinary daily activities with him like going to the grocery, doing laundry, going with him to his office, meeting his friends, attending church and Chinese Fellowship, where he served as a senior leader.
While I was there, I became even more convinced that Keith was very good "husband material" and that a lifetime with him was something I could make a commitment toward. So we both agreed he would come to the Philippines in August and we would decide then if marriage was really for us.
The beginning of ever after
Keith proposed on August 28 and the decision to say yes was so easy. I had gotten to know him pretty well by this time and I counted the cost of marrying him, too—and it was pretty high. I would have to leave everything behind, EVERYTHING—my work, my family, my beloved country, my vast support system of friends and ministry partners, even my daily travails with Metro Manila traffic.
Still, weighing all of that against what I believed was the unconditional love of a good, godly, gwapo and golden guy, the sacrifice was worth it.
There was certainly still some risk involved; there are no real guarantees in marriage. It is all still by faith and God's grace. But I knew in my mind and felt in my heart and was stirred in my spirit that this was a very good risk to take. Besides, I knew that our mutual strong faith in God was our greatest ally in this endeavour.
We were married on January 30, 2014 at the ages of 48 and 50. Both of us had thought that maybe we would never marry, but it was a pleasant surprise for us both that we ended up finding someone whom we felt we could break our prolonged singleness in favor of a lifetime of marriage. I am so grateful that I did not miss this love.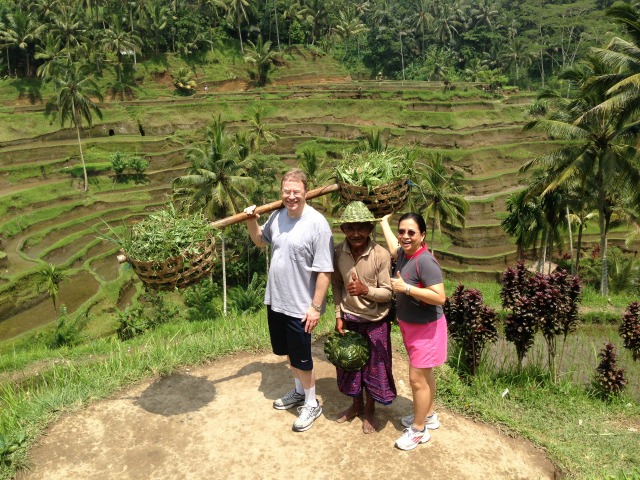 Honeymooning in Bali, Indonesia.
And as for that book I'm supposed to write, I still plan to do that. I plan to write a sequel to it. It will be called, "Pag-ibig Online." —
VC, GMA News