US homeland security to discuss temporary asylum with US Pinoys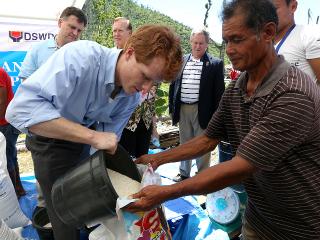 8 US congressmen visit Tacloban and Palo in Leyte. US Congressman Joe Kennedy distributes rice donated by the World Food Program and USAID to Typhoon Yolanda survivors in Bgy. Caloogan, Palo, Leyte on Feb. 21. Kennedy, Reps. Edward Royce, Steve Chabot, Brad Sherman, Joe Wilson, Randy Weber, Madeleine Bordallo, and Luke Messer were in Tacloban City for a relief mission. Ver Noveno
The United States' Department of Homeland Security (DHS) will discuss with US-based Filipino groups this coming week the Philippines' request for Temporary Protected Status for Filipinos affected by super Typhoon Yolanda (Haiyan).
A Feb. 22 report on Asian Journal said the discussion on a temporary TPS can help in relief work for those affected by the Nov. 8 typhoon that left more than 6,200 dead.
The
TPS for Filipinos is an immigration relief measure
in the United States that would enable Filipinos who have no legal work status and are illegally staying in the US to support relief and rehabilitation efforts in the Philippines by allowing them to stay and work there for a certain period.
Pilipino Workers Center
Executive Director Aquilina Soriano Versoza
said DHS Deputy Secretary Alejandro Mayorkas and DHS Refugee and Asylum Law Division Chief Molly Groom confirmed they will sit down with Filipino groups to tackle the issue.
The report cited a document provided by Versoza showing the meeting with DHS will take place on Thursday, February 27. in Washington, D.C.
The Philippine government had filed a TPS request in December 2013.
"During a designated period of TPS for the Philippines, eligible Filipino nationals in the (US) will be protected from removal proceedings for a certain period of time, can obtain employment authorization documents (EADs), and may be granted travel authorization," the report said.
In particular, the EADs will allow Filipinos to get income opportunities and send financial aid to their families back home.
They can also return to the Philippines to help their families' recovery, "and/or grieve for the loved ones they lost during the calamity," the report said.
Versoza also said the DHS may meet with other Filipino coalitions and groups.
On the other hand, the Asian Journal report said State Department staffers told Filipinos in a previous meeting that officials wanted to complete the TPS application process soonest.
Public engagement
Versoza also said the DHS wants to focus on public engagement regarding TPS.
"And although they haven't given us a specific deadline, a specific date [on when the decision will come], they did tell us that they're actively [involved] in the decision-making process," Versoza added.
Because of this, she said the participation of the Filipino community in advocating for the TPS is crucial.
She urged Filipinos across the US to join local and national movements to push for the granting of TPS.
Awareness campaign
The report said efforts for the TPS awareness campaign were scheduled starting Feb. 22. These include:
- February 22: Volunteers will promote awareness about TPS at the Island Pacific on N. Vermont St. in Los Angeles and on Roscoe and Van Nuys in Panorama City. There will also be an evening forum on TPS.
- February 23: Interfaith photo action at the University of Southern California.
- February 24: Social Media Action Day, where advocates and supporters can engage with the US government about TPS through social media.
- February 25: TPS awareness campaign at the Philippine Consulate in Los Angeles.
- February 26: Community groups to hang massive TPS advocacy banners from buildings in Los Angeles and New York.
- February 28: Virtual Town Hall Meeting with Congressman Mike Honda.

— LBG, GMA News