The Final Score
:

Those red San Miguel jerseys are back in the PBA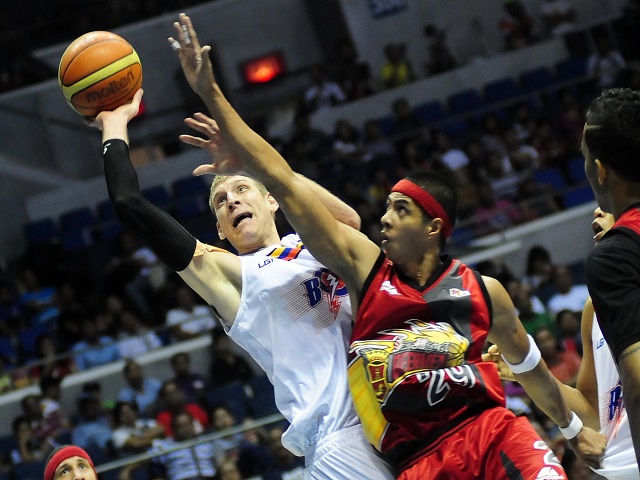 Arwind Santos (R) in San Miguel Beerman red.
KC Cruz
It shouldn't be a big deal. It's just a uniform. It's an assemblage of cloth, thread and paint. What did they teach us in grade school? If it doesn't eat or breathe or grow, it's not a living thing. It would be simply...a thing. Gamit lang yan. Damit lang yan.
"I was honored to wear it," Rico Maierhofer, one of the newest San Miguel Beermen, said. "Elementary and high school pa lang ako, pinapanuod ko na San Miguel Beermen. And that time noong childhood ko sinasabi ko sa sarili ko I want to play with that team."
[Related: Santos, Kramer aid Boone as Beermen wallop Bolts]
It's new today. It'll fade eventually. Kukupas din. Malalaspag din. In Pinoy Henyo terms, hindi siya bagay, hindi siya tao, hindi siya hayop. I just need to remind myself: it is just what it is. Uniform lang yan. No more. No less.
"Wearing the new uniforms was awesome!" Doug Kramer, one of the team's veteran forwards, declared. "Most of us knew the history behind the team name, the tradition. I told Yousef Taha about it because he was unfamiliar with it. I used to get extra intimidated during my first few years in the PBA whenever we faced San Miguel."
The red San Miguel jerseys are freshly-tailored uniforms sporting a grand old design and a grander and older name. I have nothing against the team name Petron Blaze. Peks man. But it just doesn't have the emotional cache that San Miguel has. Just saying San Miguel out loud feels like typing a password. That password unlocks all the stories. Let nostalgia run wild.
Manny Paner. Norman Black. Hector Calma. Samboy Lim. Yves Dignadice....
Wait, wait. What am I doing?
Bro, it's just a uniform. Just stop it.
"I was excited and happy to wear it again," Paolo Hubalde, who started his PBA career with the San Miguel Beermen in 2005, admitted. "Kasi diba ito yung first team ko and first jersey and same design. Medyo iba lang yung feeling nung unang suot ko [in 2005] kasi ako lang rookie noon. Ngayon isa na ako sa mga veterans. Ako na lang natira doon sa era nila Olsen, Danny I and Danny S, Nic, Dorian and Dondon. Parang bumalik yung pride ng team."
I gazed at the uniforms last night. It wasn't the pinstripes version, but it was just as classic. However, the absence of key elements was obvious. No Olsen. No Danny S. No Danny I. In fact Danny Ildefonso was playing for San Miguel's opponent, Meralco. Such irony. Such is life. You can't have everything nostalgia desires. High-stakes competition can't and won't allow it.
Hey, if you're looking for a deep connection to the good ole days, Coach Biboy Ravanes is still with San Miguel. I saw Biboy on channel 84 the other day. He was playing for San Miguel alongside Black, Marte Saldaña, Jess Migalbin and Anthony Dasalla in a game against Toyota back in 1982. Biboy represents the old San Miguel. Years ahead of Hector and Samboy. Years ahead of Olsen and Danny I. He's a connection to the heritage. That's undeniable. Perhaps he's just not the connection you were looking for.
Damn it. There I go again. Napapa-senti na naman over cloth, thread and paint. Please don't mind me. I'm just being silly. We shouldn't pop a vein over inanimate objects. Should San Mig Coffee revert to Purefoods (oh, oh, that iconic 1988 jersey) even for just two hours? Should Ginebra play around with the time-space continuum by switching to Añejo uniforms even for just one night? Huwag na, right? What for? Hassle lang.
Gamit lang yan. Damit lang yan. It's not a big deal. Teams have more important business to attend to like winning games and competing for championships. Tapping into the emotional sphere of the very same fans they are tasked to please? Sus. There are surely more pressing matters. After all, it's just a uniform. Diba?
"I feel so blessed. I haven't had that much fun playing basketball in a long time," San Miguel point guard Sol Mercado said. "How did it feel to wear the San Miguel uniform? It was amazing!" - AMD, GMA News