AFP coordinating with Malaysia, Vietnam to find missing plane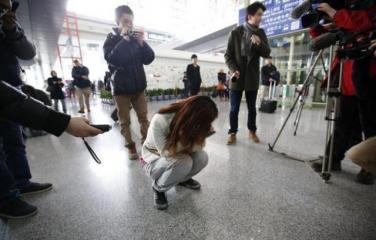 Grief seizes kin of passenger on missing Malaysian plane. Journalists attempt to interview a woman who is the relative of a passenger on Malaysia Airlines flight MH370, as she crouches on the floor crying, at the Beijing Capital International Airport in Beijing March 8, 2014. Reuters
The Armed Forces of the Philippines (AFP) continues to coordinate with defense officials from Malaysia and Vietnam in the search for the missing Malaysia Airlines flight bound for Beijing, Communications Secretary Herminio Coloma said Sunday.
Coloma said in an interview over the government-run dzRB that President Aquino is constantly being updated about the AFP's efforts in the search operations for the missing plane.
Since Friday, the AFP has mobilized its surveillance plane and naval assets, including the BRP Gregorio del Pilar,
to conduct search operations
in the West Philippine Sea and the sea lanes of Palawan.
The Boeing 777 jet, which had 239 people on board, took off from Kuala Lumpur at 12:30 a.m. Friday. It lost contact with ground controllers at around 2:40 a.m. and is believed to have crashed somewhere between Vietnam and the West Philippine Sea.
A massive international search has been launched to locate the missing plane.
— Xianne Arcangel/BM, GMA News