Farmer's son tops PMA class of 2014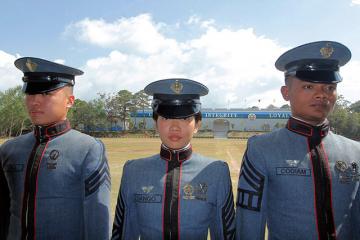 The top 3 graduates of PMA class 'Siklab Diwa'. The top three graduates of the Philippine Military Academy 2014 "Siklab Diwa" class from left: Cadet 1CL Jheorge Lllona, Cadet 1CL Liza Dango, and Cadet 1CL Billy Codiam. Dave Leprozo
Cadet first class Jheorge Llona, the son of a farmer from Daraga, Albay, is the top graduate of the Philippine Military Academy's class of 2014, the school announced Tuesday.
According to GMA's "Balita Pilipinas," also in the top 10 is Liza Dango from Cagayan de Oro City, the only woman on the PMA's honor roll.
Dango was ranked second in PMA's "Siklab Diwa Class of 2014" which will graduate in Baguio on Sunday.
The full list of top graduates ranked accordingly:
Jheorge Llona, Daraga, Albay
Liza Dango, Cagayan de Oro City
Billy Codiam, Tanuan, Kalinga
Leo Mac Tuliao, Peñablanca, Cagayan
Noel Raguindin, Dagupan City
Carlito Agustin, Tuguegarao City
Frank Anzale, Babatngon, Leyte
King Kristian Argoso, Gumaca, Quezon
Greg Phillip Monsalud, Cagayan de Oro City
Alvin Balangcod, Kapangan, Benguet
The commencement ceremonies will be attended by the graduating PMA cadets and guest of honor President Benigno Aquino III who is also the Commander in Chief of the Armed Forces of the Philippines.
— Andrei Medina/BM, GMA News